Baking sweet treats brings benefits
Although the weather is getting warmer, there's still a reason to enjoy a baked treat. Baking is an activity that can be done from the comfort of one's own kitchen. 
Since the school year is coming to a close, students have faced an increase in tests and homework. According to Delish, baking can be a great way to help alleviate this stress because it allows one to be creative with flavors, colors and shapes. It also comes with sensory triggers which bring memories of happy times and the rhythmic pattern of baking helps soothe natural cravings of wanting a familiar routine. 
Many also enjoy baking because their efforts are physically rewarded with a tasty treat.
"I love to bake in my free time," sophomore Oishee Sinha said. "It always brings me joy when I get to eat the end result and my family enjoys it too."
The possibilities in baking are nearly endless. There are hundreds of recipes available online that one can choose based on individual criteria, such as the type of treat, level of difficulty, ingredients and amount of time needed.
"One of my favorite things to bake is a simple chocolate cake from Add a pinch," Sinha said. "There's so much you can do to make it pretty when decorating it.
According to BBC good food, baking may appear to be quite difficult at first, as some recipes do call for more expertise, but one way to get into baking is to try something simple like cakes, brownies, or biscuits.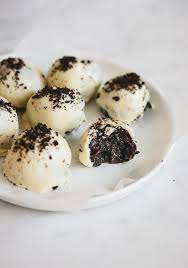 "One treat that doesn't take a lot of time is white chocolate Oreo truffles," senior Isabel Dilandro said. "There are only three ingredients and super easy to make. It's a very good recipe for tricking others into thinking you're a master baker when really they didn't even touch the inside of an oven!" 
This sweet treat uses only three ingredients: 16 oz. of white chocolate, one package of Oreos and one eight oz. brick of cream cheese.
"[The first step is to] soften the cream cheese until [it is] easily mixable, " Dilandro said. "Don't leave [it] sitting out for more than two hours."
Second, use a food processor, or a rolling pin, to crush all of the Oreos into small little pieces. "These pieces should have the consistency equivalent to wet sand," Dilandro said.
Save ¼ cup of the Oreo pieces for decorating. Mix the remaining Oreo crumbs with the softened cream cheese until a paste forms and then chill in the freezer for 10 minutes. 
While you are waiting for the cream cheese paste to become soft, melt the white chocolate .
"White chocolate chips tend to clump because of an agent used to form it into the 'chip' shape, so I [prefer] to use baker's melting chocolate," Dilandro said. 
Once the 10 minutes are up, take the Oreo mixture and roll it into little balls to coat in the white chocolate. After coating, place the Oreo balls on a parchment sheet so that the white chocolate can set.
"Before it sets all the way, don't forget to sprinkle the [¼ cup] of the Oreo crumbs on top as a garnish," Dilandro said. "The best part about this treat is that there is no baking needed, so once it's all mixed, molded and garnished, you are ready to enjoy."
If neither the chocolate cake or white chocolate Oreo truffles pique your interest, hundreds of other simple recipes are available on the internet as well. Some possible sites to use are Buzzfeed Tasty, Baking Mad and Love & Lemons. 
"Anyone can bake," Sinha said. "Honestly, it does take a little work, but it's all worth it when you [can] let your stress out and get a satisfying result."