Abortion bills challenge future of Roe v. Wade
Nearly 39% of the country opposes the landmark abortion rights case that stood for 48 years: Roe v. Wade. According to the Pew Research Center Survey from April, the outcome of this Supreme Court case legally allowed a pregnant woman to have an abortion before the fetus's viability which is around 22-24 weeks into pregnancy. 
On Sept. 1, 2021, the Supreme Court declined to stop the Texas abortion law, S.B.8, which banned most abortions after 6 weeks with no exceptions for rape, incest or nonviable pregnancies where there is a fetal heartbeat. There are certain exceptions for medical emergencies. 
According to the American Pregnancy Association, it takes about four to seven weeks for a woman to recognize she is pregnant and then a couple more weeks to get a prenatal appointment.
"It saddens me that [the Texas abortion law] got passed," junior Megan Rudacille said. "I feel like it is such a step backwards when so many advancements had been made, like giving people more access to abortions." 
S.B.8 prohibits Texas state officials from enforcing this law; instead, any individual can file a civil lawsuit against anyone who aids an abortion and the individual who files the suit will be rewarded $10,000 plus legal fees if the lawsuit prevails. Furthermore, if lawyers question the law or represent those who got an abortion, the lawyers could be fined the opposition's legal fees, discouraging lawyers from accepting these cases. While the Supreme Court declined to stop the law from being enacted, the justices said that they are not ruling on whether the law is legal. 
"The fact that the Supreme Court didn't make a concrete decision leaves the door open to more laws that could restrict the ability to choose in other states," senior Charles Nowicki said. "Restrictions that don't truly account for individuals are not productive." 
This legislation, along with a Mississippi lawsuit, challenges the status of the precedent Roe v. Wade. The Mississippi law blocks most abortions after 15 weeks of pregnancy, which is right before fetal viability. Mississippi's brief openly asks for the court to repeal Roe v. Wade. Lower courts in Mississippi have ruled against the law, and according to Reuters, the Supreme Court will hear the arguments in November. 
Planned Parenthood predicts that abortion will become illegal in 22 states, primarily in the Midwest and South if Roe v. Wade gets overturned. According to Guttmacher Institute, 11 states have planned out laws that ban most abortions that would be implemented if Roe is overturned. In response, Speaker of the House of Representatives Nancy Pelosi (D-CA) announced that they will vote on the Women's Health Protection Act, a bill that would protect abortion rights of Roe v. Wade nationwide. However, this bill will face numerous struggles before it can become a law.
Recently, the Women's Health Protection Act passed in the House; however, according to Vox, it may not in the Senate since two Democratic Senators do not support abortions and two Republican Senators do.  Even if it passes in the Senate, the Supreme Court could also strike it down. 
"This can divide the two parties more and more apart because of this debate of whether abortion should be legal or illegal and it can affect their communication and future elections," sophomore Swara Somu said.  
Although abortion has always divided the parties, according to Pew Research Center, the partisan gap is wider than ever. There is a 45% gap with 80% of Democrats supporting abortion and 35% of Republicans opposing it."
"Abortion won't go away," Rudacille said. "Legal abortion does. This means that women have to turn to illegal sources of abortion that are more dangerous to them and their safety."
Leave a Comment
Donate to The Purple Tide
Your donation will support the student journalists of Chantilly High School. Your contribution will allow us to cover our printing and annual website hosting costs.
About the Contributor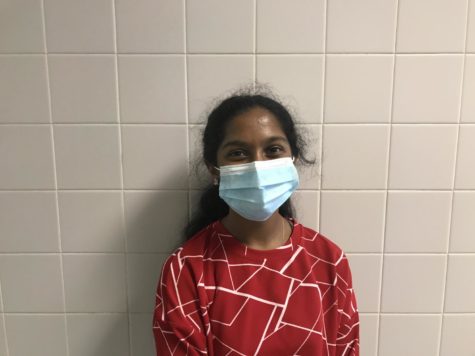 Nithya Muthukumar, News Editor
Nithya is a junior and this is her second year on the Purple Tide. She is heavily involved in Debate, Red Cross and the Writing Center. Outside of school,...