Cross country team faces new season guidelines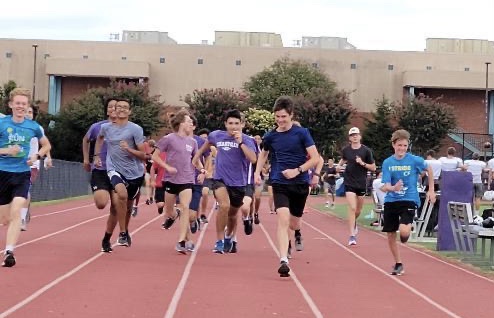 Competing with masks on, having fewer schools and spectators at each meet and restricted team bonding became the norm last season for most Virginia High School League (VHSL) teams, including the cross country team at CHS. Due to COVID sports delays, the 2020 cross country season was moved to February through April. Thus, the cross country team couldn't have their preseason summer camp, and in-person activities were scrapped altogether. 
"We didn't get to dress up on Fridays or meet days, [and] we didn't experience a lot of our team traditions," senior and captain Jacob Lockey said. "We weren't able to do any team dinners or any real team bonding activities outside of practice, and practice was extremely limited and spaced out."
Outside of regulations from FCPS and VHSL, the cross country team's coach Matt Gilchrist has implemented his own rules and regulations that the athletes must abide by to reduce the risk of COVID. Because the cross country team is coed, the coach keeps the athletes separated for warm ups and stretches to prevent them from getting each other sick, so that for instance if the boys team has a COVID case then the girls may still be eligible to race.
"For regionals last year, five of our top seven [runners] were out of condition due to COVID, so [these] rules will help with people not getting sick, which is the most important thing right now."
Being back in-person means a longer season, stretching until mid-November, and more competition for the athletes. The regional tournament will start on Oct. 30, and the state championships will be on Nov. 13.
"The mentality and approach has to change because the season is longer and more tiring, especially if you want to make it far into the postseason," sophomore Luke Barlow said.
Like most other seniors, Rodrigues is looking forward to her final cross country season as a Charger. 
"I'm definitely scared because I haven't had a normal season in a few years, but I'm looking forward to just having fun now that I'm a senior," Rodrigues said. "I've been with these people for four years now, so I'm [eager] to spend time and compete with my great friends and teammates."
As of Sep. 23, the last recorded meet was the first Concorde District meet on Sep 14. Both boys and girls finished first out of the six schools in the district, with the boys earning 19 points while the girls earned 23. 
The next meet will be on Oct. 12, the Glory Days Grill Invitational, at Bull Run Park in Manassas, Va.