Freshman Transition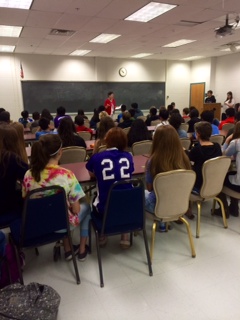 The Freshman Transition program has just concluded their first meeting this year. This program has been conducted for several years and serves to benefit both freshman students and their counselors. Students meet with their counselors and senior mentors during Charger Time once a quarter to ask questions they may have or discuss tips for success in high school.
"The Freshman Transition program really allows counselors to put some facetime in with our freshman students that we will have for the next four years." school counselor JP Sousa said.
During the meetings, counselors discuss simple topics such as time management and procrastination with their students. The counselors also discuss more complicated matters like switching classes. Senior mentors also give great pieces of advice.
"I recommend doing your homework ahead of time," said senior Nick Marotta "Sometimes kids can procrastinate if they have too much free time."
This program is very helpful to both freshmen who have prior knowledge about the school and those who are brand new. The purpose of the Freshman Transition program is to reinforce concepts such as managing homework and finding a balance between school and extracurricular activities in order to set students up for success.
"I already knew most of what was covered during Freshman Transition because my older sister told me about it from when she was a freshman," said freshman Tara Scholberg, "but it is still helpful because it re-emphasizes important information to help me succeed."
The next meeting will be held on January 21st and 23rd during Charger Time.