Free meal program provides greater accessibility to food for students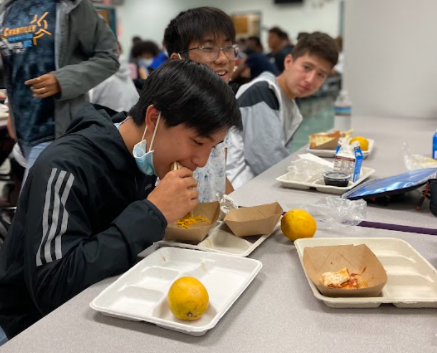 In response to the pandemic, FCPS decided to offer free meals to all students until June in accordance with the Coronavirus Aid, Relief, and Economic Security Act. Officially piloted last year in the midst of the pandemic, the free meals plan provides both breakfast and lunch to all students in the county. 
According to numerous studies published by journals such as the Journal of the American Academy of Child and Adolescent Psychiatry, hunger causes students to perform badly in subjects such as math, as well as be held back in school. The purpose of the free meal program, subsidized by the USDA, is to encourage students, specifically those who do not have access to a nutritious lunch at home, to eat a complete lunch—not just part of one. According to  Food Services Kitchen Manager Jody James, the line of reasoning follows that if students take the elements of a full lunch, they will be more likely to eat the entire meal instead of throwing away parts of it. 
"The meals are put together to meet the nutrient and vitamin levels that a [high school] student might need," James said. "[Students] have to take the whole meal to have a nutritious lunch." 
Meals are free as long as students take enough items to create a full meal. The program guidelines, in accordance with the United States Department of Agriculture (USDA), states that students must take at least three of the five components of a full lunch: milk, grains, fruits, vegetables and meat or alternative meat. However, students will be charged for the items they buy if it does not fulfill the full meal requirement.
"I think it's a bad idea that they charge you for just taking one item," freshman Jared Peart said.   "Why not just say there are items that are for free, and even if you don't take the full lunch, you are still getting part of the meal for free." 
Despite the program's intentions, students continue to take a full lunch when they desire an individual item, such as fries, in order to avoid paying. One way to combat this issue is to find ways to repurpose excess food that students don't consume.  
"The student body [can] start composting to reuse the food if it spoils on school grounds or donate [it] to the homeless," James said. "I cannot do that as kitchen manager, but maybe the student government can." 
As the program continues to evolve, chips and other snacks will be offered for sale in the coming weeks. Because snacks were not needed last year since most students were not at school, the vendors that usually supply the school with snacks were unable to meet the sudden high demand for them. According to the Food Research and Action Center (FRAC), free lunches can help reduce poor health and obesity, and access to a full meal has been linked to improved success in the classroom.  
"It's nice that I don't have to worry about packing my own lunch and I can just go to school,"  sophomore Vivian Buchina said.