Teachers for Tomorrow prepares students for educational careers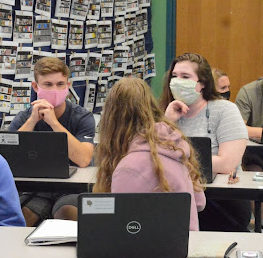 Over 120 instructional vacancies remain in Fairfax County Public Schools as of Oct. 20. Public schools struggle to fill teacher positions across the U.S due to a spike in retirements and resignations since the pandemic, according to AP News. 
Faced with a teacher shortage, Academy class Teachers for Tomorrow offers an avenue for juniors and seniors to pursue their interest in educating the next generations. With two different course levels, Teachers for Tomorrow provides an in-depth look into teaching on a personal and professional scale. 
"My mom is a teacher, and I've always had respect for teachers," senior Alyssa Dausch said. "I like the satisfaction I get from seeing people achieve what they've been struggling with. If I'm helping them get there, that really makes me happy."
Teachers for Tomorrow 1 focuses on building a foundation of how teaching works and classroom management, as well as providing opportunities to observe teachers in a classroom setting. Teachers for Tomorrow 2 allows students to further explore careers in teaching and gain more field experience. 
"This class gives me another perspective on what actually goes into becoming a teacher and if it's really what I want to do in the future," senior Julien DaSilva said. "Being a teacher is more than just liking to teach children, but actually being passionate about the subject."
Business teacher Courtney Marshall is the teacher of both course levels. She has taught students from kindergarten through twelfth grade, including special education and English language learners.
"At first, students start off shy, but at the end, they're presenting in the classroom," Marshall said. "They're going to be in front of 30 students [by] themselves, so they become more confident. It helps them navigate their learning pathway to be successful in college."
Teachers for Tomorrow students practice creating lesson plans and develop an in-depth understanding of special education and student needs. Additionally, students learn various teaching methods, such as different learning styles and ways to deliver a lesson.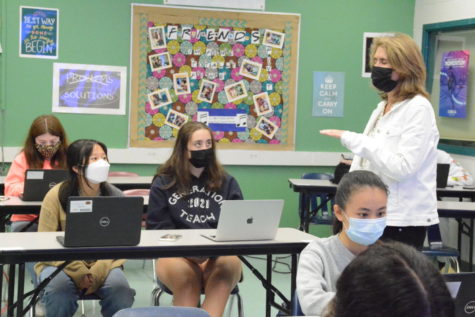 "Once someone understands their own learning style, you can see that other people have different learning styles," Marshall said. "Students become compassionate to different ways of teaching and learning."
In order to work with all kinds of students, Teachers for Tomorrow students develop several skills in their path to becoming a teacher. 
"It's important to have patience when you're a teacher," Dausch said. "You have to be your best self, even if you're having a bad day. You don't know what goes on in a kid's life, and so that's something you really have to take into account and accommodate for."
As a college level course, Teachers for Tomorrow not only gives dual enrollment credit from Northern Virginia Community College, but also provides students with internship opportunities. Students enrolled in the first level of the course intern for 40 hours in an elementary, middle or high school classroom, while level two students intern for 60 hours. First, students observe how teaching is done in classrooms, then become a teacher's assistant and even teach lessons on their own. 
Seniors will have the opportunity to get a job as a teacher in Fairfax County Public Schools after graduating college if they pass the interview process, and juniors can get a letter of intent that guarantees them a job interview before they begin college.
"My favorite part is once the kids go out to intern and observe," Marshall said. "They'll have wonderful stories of how they connected with a student who's struggling in a class [by helping them] succeed."
Through collaborative discussions, students learn from each other's experiences in the classroom. There is also a certain degree of independent college-level work involved, as students study topics such as teaching philosophies, licensure and child development.
"You really learn as much about yourself through this class as you do teaching," senior Christian Schopp said. "Virginia needs teachers. And if you want to be a teacher, that means you are a type of person who is willing to dedicate themselves to helping other people, inspire a passion for a topic or just make a positive impact on someone's life."