Mark your calendars: World Kindness Day has come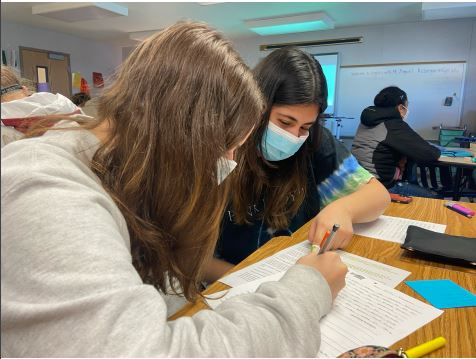 With big family gatherings and pumpkin spice lattes on most people's minds, the thought of World Kindness Day rarely comes up. An annual holiday since 1998, World Kindness Day recognizes the importance of compassion and advocates acts of kindness to yourself, each other and the world. World Kindness Day takes place every year on Nov. 13.
"I don't understand why there is only one day dedicated to kindness," freshman Lela Murati said. "Kindness should be celebrated every day." 
The purpose of World Kindness Day isn't to perform an act of kindness for just that one day; it serves as a reminder to be kind every day. Participating in this holiday is really as easy as it sounds. Students can engage in this holiday by prioritizing themselves, being considerate to others, respecting property or just recognizing kindness.
"To be honest, I didn't know World Kindness Day existed until it was just brought to my attention," counselor Alexis Scott said. "However, I liked the idea of it the more I researched it."
It's important to understand that doing an act of kindness to others doesn't single-handedly fulfill the holiday's purpose. World Kindness Day shines a light on self-love, so it's recommended for everyone to relax and take care of themselves. Learning to love oneself will lead to sharing love with others. 
"The holiday can bring awareness to how we should be behaving on an everyday basis," Scott said. "We could all benefit from a little extra kindness."
The 2021 State of Mental Health in America report confirms the trend that mental health in the U.S. has deteriorated. There are many health benefits of kindness. For example, kindness can decrease levels of stress, anxiety, depression and blood pressure.  When a person performs an act of kindness, their brain rewards them with a sense of warmth in their conscience.
Getting the word out about World Kindness Day has the ability to turn heads and start a chain of positivity. According to students at Stanford University, actions of kindness can boost moods, enhance confidence and promote spiritual happiness. Not only does kindness benefit people socially, but kindness can benefit people biologically as well.
Kindness is contagious, people are more likely to "pay it forward" once they receive an act of kindness. The impact of World Kindness Day could encourage students to be in a happier, healthier mood for the holiday season, especially with mental health being a prominent issue among teens. 
"In order for students to know what World Kindness Day is, our school should advertise the holiday by putting up posters in the halls or mentioning it on the school news," junior Shermeen Yousaf said.
Everyone goes through hardships and different obstacles in life. It would make a difference in the Chantilly community if random acts of kindness start happening more often. For example, holding the door open for a stranger could greatly impact the rest of their day. Showing appreciation and gratitude to one another can create a more gracious and united society.
"Kindness has to do with the little things," Scott said. "It doesn't hurt to extend everyone a little grace and kindness, everyday, not just once a year."