Teen drivers can take steps to stay safe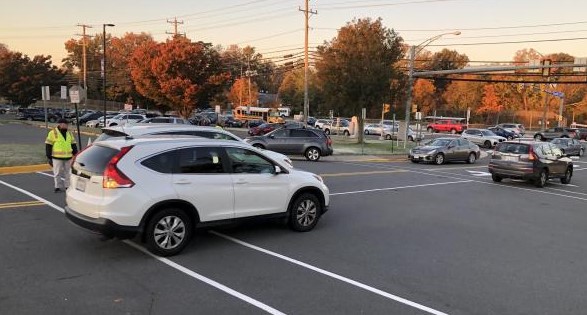 Car accidents are the second leading cause of teen deaths, according to the Centers For Disease Control (CDC). In 2019, almost 2,400 American teens were killed in car accidents, and about 258,000 needed to visit the emergency room for injuries suffered in crashes. Junior Tara Sankner received her driver's license in May and has been involved in more than one accident.
"The [accident] that happened recently was at the Lee Jackson Memorial highway intersection," Sankner said. "The [driver behind me] thought [we] had a green light, but we [didn't] and so he pressed the gas and hit right behind me. Luckily it was just a few scratches." 
According to safety and security specialist David Goldberg, most of the poor driving witnessed in CHS parking lot may stem from impatience and inattention to detail.
"At the end of the day, a lot of [the students] are in a hurry to leave school, so sometimes they don't pay full attention," Goldberg said. "I've [had] students not see [security] while we're directing traffic and drive right past us. On one occasion, I've almost been struck by a vehicle."                                                                                                                                                         
High school parking lots can be chaotic and dangerous with so many new, inexperienced drivers in one place. Students have been observed rolling through stop signs or blocking crosswalks. 
"I always tell my students [that] cars drive a lot faster than people walk, so in a parking lot, [cars] tend to drive way too fast and people can't get out of the way," behind-the-wheel driver's education teacher Andrew Tramel said.
Another common issue that student drivers are at fault for is reckless speeding. According to the CDC, teens are more likely than older drivers to speed, allowing for less distance between cars. In 2019, 31% of male drivers aged 15–20 year and 17% of female drivers aged 15–20 who were involved in fatal crashes were speeding.
"The speed limit on campus is supposed to be 10 miles per hour (mph), but I've seen cars driving as fast as 25 mph," driver's education teacher Kurt Sporkmann said.
In order to protect themselves and others around them, Goldberg, reminds students to pay close attention to their surroundings and be on the lookout for pedestrians, cyclists and other drivers.
"Sometimes [the students are] not courteous to other drivers," Goldberg said. "Some students like to play their music loud, and they might not hear things. On occasion, I've seen students have more [passengers] in their car than is allowed, which is actually a Virginia state law."
By practicing safe driving habits like defensive driving, in time, students can improve their driving skills. Keeping alert, staying focused, and anticipating other driver's actions are all examples of defensive driving tactics according to Nemours.
"I equate [unsafe driving] to driver inexperience," Goldberg said. "We have a lot of students here that are driving for a year, maybe a year and a half, compared to adults who have been driving 20 to 30 years." 
The CDC reports that crash risk is particularly high during the first months of licensure and the crash rate per mile driven is about 1.5 times greater for 16 year-olds than for 18 to 19 year-olds. 
"When you drive faster, things happen faster," Goldberg said. "So slow it down, obey the traffic laws, don't speed."