Thanksgiving leftovers don't have to be boring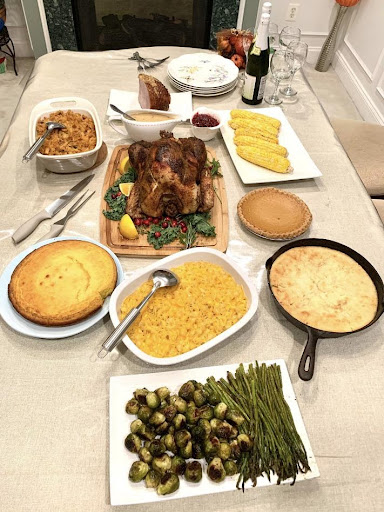 A huge, roasted, golden turkey glistening with butter, soft delicate mashed potatoes topped with gravy and fluffy stuffing that emanates coziness and cheer—the scene is set for a hearty Thanksgiving meal. But after feasting for one night, the inevitable large quantities of uneaten food pose the age-old question: what do you do with leftovers?
Here are a few tried-and-true leftover recipes loved by Chantilly students. 
Turkey macaroli: Two classics combined
Most people turn to turkey sandwiches to finish off the remaining turkey, but it can get repetitive. Senior Emily Gates has fond memories of a special macaroni dish her aunt crafts using leftover turkey. Although macaroni might seem like an odd side at Thanksgiving, it is actually the second most liked leftover in the South, according to USA Today. 
"Typically we have a recipe that's ham and macaroni, so we substitute the ham for turkey," Gates said. 
To create this cheesy delight, make any version of your favorite macaroni and cheese dish, and add turkey to it. The key to making this dish is to add the turkey in as the macaroni is cooking, not separately, so the juices and flavor from the turkey can marinate and coat the macaroni. 
"I'm actually not a fan of turkey, so I always pick it out, but it's still my favorite leftover recipe," Gates said. "But the turkey flavoring is the defining feature of the dish."
Thanksgiving quiche: An EGGcellent breakfast
Often referred to as the most important meal of the day, a breakfast that provides a healthy meal providing alertness and energy for the rest of the day. For freshman John Sundstrom, a baked French quiche is the perfect way to start the morning after Thanksgiving.
"Normally my mom makes [the quiche]  once a month, but we modify it for Thanksgiving," Sundstrom said. "I usually eat it in the morning, sometimes for lunch and as an afternoon snack." 
The family recipe, created by his grandpa and later modified by his mom, provides both protein and carbs. First, preheat the oven to 375 degrees Fahrenheit. Then, combine four large eggs with leftover meats and vegetables, such as ham, turkey, collard greens or stuffing. Add about a cup of your favorite type of cheese, and pour the wet mixture into a pie crust. Bake for about 20 to 30 minutes and serve warm. 
Turkey fried rice: East meets West
For many immigrants, Thanksgiving is a time to celebrate their own journey to America. Although their dinner may look slightly different from the standard turkey dinner, the evening provides an opportunity to reflect on all that has been accomplished. One of senior Keerthi Athauda's favorite leftover recipes is a blend of turkey, green beans, corn and South Asian fried rice made of spices such as cumin, turmeric and red chili powder. 
"My dad makes [the dish] as a Sri Lankan–style fried rice," Athauda said. 
This meal calls for sauteed vegetables and onions seasoned with a teaspoon of a few spices of your choice. Once leftover meat and basmati rice topped with coriander leaves are added to the pan, the fried rice is complete.
"It's an amalgamation of Sri Lankan and American food," Athauda said. "As someone who is biracial, it's nice to see the fusion of both sides of my family."
What is your favorite Thanksgiving food?
Sorry, there was an error loading this poll.