Peer tutoring builds character, improves academic performance
From precalculus to persuasive writing, the school has made available peer tutoring services for a variety of subjects this year. Every week, organizations such as Math Honor Society (MHS), Chantilly Writing Center (CWC) and English for Speakers of Other Languages (ESOL) Tutoring Club provide students help completing schoolwork or grasping difficult concepts by working with trained tutors.
"[As a peer tutor], you're not actually teaching a class or anything. You're working one-on-one or two-on-one with a student," MHS officer and junior Rachel Lee said. "It's an intimate relationship, and you're giving back to other students, which is what school is always about: fostering an environment where we're all trying to help each other."
MHS holds tutoring sessions during Charger Time (CT) and after school on Thursdays. At these times, tutors travel to math classrooms and help students work through homework assignments or study for assessments, depending on their needs. Since tutors are prepared to cover content from any math course between geometry and Advanced Placement Calculus, many students can turn to MHS tutors for assistance with specific areas of study.
According to a blog post by Ferrum College, one key benefit of peer tutoring is that tutors exhibit role model behavior to their tutees. Essentially, seeing other students manage their course load can motivate those finding it difficult to do the same.
"It's good to be next to successful [students] who are organized [and] can actually explain why they're successful," ESOL Tutoring Club sponsor and ESOL teacher Tatiana Goldovsky said. "[These students may show tutees], 'you know, I'm doing my homework every day,' and 'I didn't understand [something], but I stayed after school a couple of times, and now I'm fine.'"
ESOL Tutoring Club meets during CT in room 287. Tutors work with students on honing English reading and writing skills through worksheets, games and other activities. Students of any level of language proficiency are free to attend the club's tutoring sessions, so anyone looking for help is welcome.
NBC News notes that while personalized instruction is becoming a "desirable option" for parents of struggling students, few can afford to hire a private tutor for their children.
"Private tutoring is very expensive. I know people who charge upwards of $50 to $90 an hour, and some people just don't have the capability to pay for that," CWC tutor and sophomore Alexander Dorsey said. "You don't have to necessarily pay to get [tutored by] your friends, and I know school offers a lot of help that you don't even have to sign up for."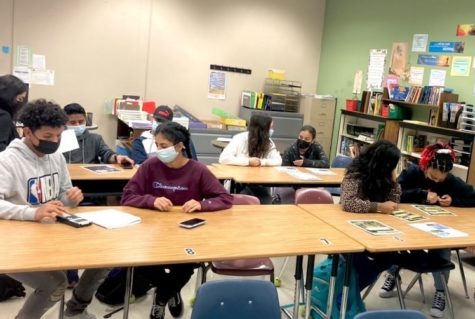 CWC meets during CT and after school on Thursdays in room 226. Students having trouble brainstorming ideas for a narrative or in need of revisions on an essay may come by and glean some insight from available tutors. As tutors have experience working with various types of writing, students can bring in any sort of paper they'd like checked, such as a lab report or college admissions essay.
Peer tutoring isn't just beneficial for the student receiving help. A research paper by Dhafra Al Kharusi of Middle East College indicates that watching pupils progress boosts self-esteem and provides a sense of accomplishment for many tutors.
"In general, you can see the growth in tutees, even if they're improving in their test scores by two points," Lee said. "Their faces light up when they [understand something]. The fear that holds them down disappears and you can see their confidence come up, [which] is fulfilling as a whole."
Not all students are on board with the idea of peer tutoring. A study by Pacific Lutheran University reveals that there is a "negative stigma" around tutoring because students fear being judged for seeking extra support.
"[Tutoring] does put a person in a vulnerable position, and if they aren't comfortable with that, they're not going to go to a peer tutoring session," Dorsey said. "I would just let them know that every [tutor] I've met has been very kind about what they're doing and that it's a very supportive experience."
Peer tutoring can enhance interpersonal skills and educational performance, which may, according to a journal article by K.J. Topping, benefit both tutors and tutees well beyond their academic careers. Students can visit the All Students: Chantilly High School course on Schoology for more information about the tutoring services offered at CHS.
"There are so many resources that you can use—you just need to seek them out," Lee said.