Mighty Marching Chargers spook their way to the end
Cobwebs and gravestones cover the field as the familiar sounds of 'Thriller' float through the air. The marching band show featured a Halloween theme.
"A Night at the Graveyard" featured music such as "Night on Bald Mountain" by Modest Mussorgsky, "Danse Macabre" by Camille Saint-Saëns, "I put a spell on you" by Screamin' Jay Hawkins, Verdi's Requiem "Dies Irae". 
"I actually liked it a lot, it was was fun to play," junior percussionist Victoria Jackson said, "it's one of the best shows I've played so far."
Their first competition on Sept. 25, they placed second at South County invitational.  The band also got second place at their Oct. 16 competition at the Naval Academy in Annapolis and at the Oct. 23 at Patriot High School competition. At the VMBC Commonwealth Cup Championship, the band earned second in their class and seventh place overall. 
"I joined the marching band because I feel like I could improve my social and disciplinary skills," senior baritone player Pauline Lor said. "And my skills did improve after joining the marching band."
The marching band began practice at the beginning of July, learning the show from the music to the choreography.  Some marchers have trouble with memorization of music, knowing where their spots are located and moving from place to place.  As a result, they learn the music, then the choreography and then put them together over the many hours of practice from July to November.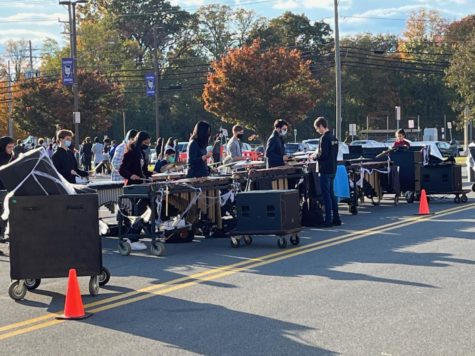 "Marching band has taught me to be better at memorizing,"  freshman flute player Vedhika Vijayram said. "[It] also taught me to be more responsible." 
With practice and performances taking from six to 20 hours a week, Vijayram and others learned to manage their time and balance school work with marching band. All of this time also meant that students became close with their fellow marching band members. 
"You have a better chance of making new friends in a marching band because of the competitions and practice than [you would] in regular band." senior saxophonist Brianna Fujiwara said.