Nursing classes allow students to get head start on dreams in medicine
Filled with test dummies, scrubs and medical supplies, the Academy's nursing programs work on career and technical education skills throughout the year. After enrolling in this one-year program, juniors and seniors have the opportunity to go through two semesters of introductory nursing programs designed to prepare them for future medical endeavors.
"You learn about important things like tourniquets and CPR," junior Esau Mariaca-Manzon said. "All your team members are basically like your best friends." 
During their class periods, students are tasked with both listening to lessons and participating in hands-on practice. They practice medical skills such as finding vital signs, blood pressures and heart rates on mannequins.
"My favorite thing about teaching nursing is seeing them make the connections between the physical part of nursing and the communication part of nursing," nursing teacher Cynthia Holland said. 
Throughout the two levels offered for this class, students learn a multitude of units. Specifically, units such as Stop the Bleed help prepare students to deal with an emergency by applying pressure, making tourniquets and more. Each unit focuses on developing different personal and group skills necessary for medical occupations.
"Nursing is very special to my heart because I'm able to help other people in need," junior Jade Guardino said. "Everything about nursing is [amazing because we] learn about how to save lives and we get to collaborate."
Additionally, this class provides an opportunity to prepare and take the Certified Nursing Assistant (CNA) exam. The test is comprised of two parts, written and skill display, that can reward those who pass the exam with a certification. After obtaining a certification, it's possible to become a hospital tech or nursing home assistant, even for those under 18.
"[Nursing] is very useful because it's a very interactive class and you can [make a] career off of [it]," Mariaca-Manzon said. 
All students in health and medical classes may also participate in the co-curricular organization, Future Health Professionals (HOSA), formerly known as Health Occupations Students of America.  The student-run organization holds meetings during class time to discuss health issues and service opportunities. They supply extra tampons and sanitary napkins stationed in girls' bathrooms.
"
"Nursing is very special to my heart because I'm able to help other people in need.""
— Jade Guardino
"I thought that [participating in HOSA] was pretty cool [because] I didn't know that you were able to [participate] just by being in nursing," Guardino said. "[HOSA] is special because [we] bring awareness to different [causes] every month." 
Before taking this class, Holland suggests that students first take Exploring Health and Medical Science. Although it's not a prerequisite, it helps students prepare for the content taught in nursing.
"I encourage [students] to come, understanding that the class can help you get where you want to be, but it requires some work," Holland said.
According to Guardino, nursing students have begun receiving practice shadowing CNAs at nursing homes. After completing 40 hours of training under professionals, students will be one step closer to their own CNA certification.
"A lot of people have no idea that [a nursing program] is here," Holland said. "[My students] are lucky that [they] even get the opportunity to step into this position and to do some of these hands-on things in residents facilities [where they] will [be] greatly appreciated." 
Leave a Comment
Donate to The Purple Tide
Your donation will support the student journalists of Chantilly High School. Your contribution will allow us to cover our printing and annual website hosting costs.
About the Contributor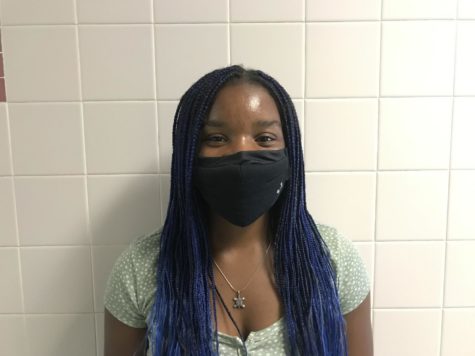 Jada McGlothin, Copy Editor
Jada McGlothin is a junior in her second year of the Purple Tide. She enjoys playing field hockey and soccer with her friends and doing yoga with her mom....