Remembering Martin Luther King Jr. through community involvement
Martin Luther King Jr.'s historic "I Have a Dream" speech continues to touch hearts across America today, calling out racial injustice and evoking change. In dedication to his impact in the Civil Rights Movement, Martin Luther King Jr. Day (MLK Day) was created as a federal holiday in 1983.This year, the holiday will be celebrated on Monday, Jan. 17.
"People should care because Martin Luther King is an important part of our history," Black Student Association (BSA) sponsor Dwayne Peyton said. "Despite what some people may think, these past transgressions are a part of American society."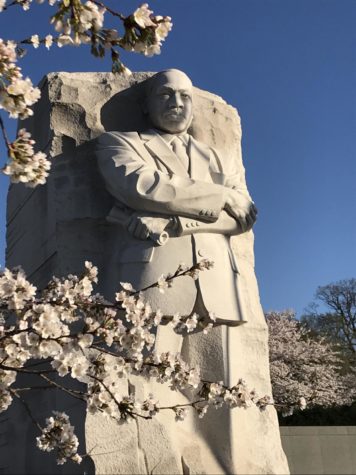 Although students receive the day off for this holiday, many do not take this time to remember MLK and his contributions, and some do not understand why MLK has an entire day in his dedication. 
"I get that Martin Luther is important to our history, but why does he have a whole holiday surrounding him?" junior Samantha Senio said. "What makes him more special than other civil rights leaders like Harriett Tubman and Rosa Parks?" 
MLK led the movement to end racial segregation through a peaceful manner. He organized a number of marches and petitions which have brought up discussions about the line between Black and White lives. One of his well known marches in Selma, Alabama resulted in the historic, Bloody Sunday. MLK led many other protesters across the Edmund Pettus Bridge with a goal to reach the capitol building. While marching for Black voting rights, protesters were being attacked by state troopers and police. 
"Martin Luther King took a race of people who have been marginalized all throughout history and dedicated his life to the true proposition that all people are created equal," U.S. history teacher Joseph Campbell said.
This holiday can be an opportunity for Americans to volunteer to improve and change their communities, like MLK did.
MLK's goal was to make people of his own color feel safe, which was difficult when living in a racist society. He worked hard to bring equality to America and established civil rights for people of all colors by leading his protests and encouraging minorities with inspiring speeches. Many Black people are able to connect with MLK today, decades after his death on April 4, 1968.
"This day is about me recognizing my own Blackness and still considering how far I have to go to make sure that all color voices are heard, not only in our high school community but also in society as well," Peyton said.
For students who want to do something impactful for this holiday, the Black Student Association is welcoming students to join. BSA member and senior Samarra Rodriguez highly encourages students to attend and support the club. As of time of print, BSA does not have a finalized plan for MLK Day.
"Even though MLK is just one person, he's done so much for our history," Rodriguez said. "If students are interested in doing something to support MLK's achievements, our club recognizes African American leaders like him."
Social actions such as marches, petitions and protests are examples of ways society can help better racial injustice issues according to NNEDV.
"Those actions caused reactions to where our society is today. Some good, some bad, and some things that people don't want to touch," Peyton said. "Going back to the 1860s can be a difficult discussion, but it is important for people to be educated on the history of the United States. Centuries before MLK was around, the African Americans were treated like property. [Since MLK], our society has improved and is still continuing to improve.