Mitski's 'Laurel Hell' warms up winter season
Known for her tear-jerking melodies accompanied by passionate lyrics, alternative and indie music artist Mitski recently delivered her sixth studio album, "Laurel Hell." This new production is her first major project since her 2018 album, "Be the Cowboy," which features breakout songs such as "Nobody" and "Me and My Husband." Released on Feb. 4, fans can now listen to more of Mitski's emotion-provoking music. 
"I'm really excited to relate and cry to the new songs," freshman Jacqueline Tran said. "[Mitski is] an artist that makes music with home-like energy, so I'm looking forward to hearing all the emotions and experiences that she's going to put into her new album."

Mitski's first song, "Bag of Bones," is an indie song discussing the struggles of living through a hollow relationship, according to TeachRock. In 2012, Mitski continued the indie theme when she released her first studio album, "Lush," during her junior year in college. According to NPR, Mitski's raw lyrics and use of piano stood out to fans on "Lush."
"Most of Mitski's songs are filled with metaphors, and the cool thing about that is that every metaphor can be taken in a hundred different ways," freshman Eesha Chauhan said. "How one person sees what Mitski is implying is different from how another person understands the metaphor, and not a lot of artists know how to write songs like that."
"Bury Me at Makeout Creek," Mitski's 2014 album, began to set Mitski in the public eye, according to The New Yorker. Mitski crafted this album with a combination of guitar rock with pop-punk and folk music aspects, as reported by NPR. Additionally, this work includes a song discussing the feelings of restlessness and unease in "First Love/Late Spring," while "Francis Forever," a tune featuring themes of isolation, was featured on the Cartoon Network show "Adventure Time."
"[Mitski's music is] not just your average sad song," Chauhan said. "It's different because it feels like she understands people, and hearing her music makes you think that you're not the only one who has gone through the same struggles that you've gone through."
Since the release of "Bury Me at Makeout Creek," Mitski has been placed at the fifth spot on the Billboard emerging artists list and 11th on the top album sales list in 2018. As of January 2022, Mitski has also accumulated over eight million monthly listeners on the music streaming app Spotify. 
"
[For me], every album is a hit [because] all the songs are so specific to small issues you wouldn't think are like concerning but she really substance [into them]."
— junior Lydia Cha
"I love Miski, and I know she's not the type of artist to change after success," junior Lydia Cha said. "[For me], every album is a hit [because] all the songs are so specific to small issues you wouldn't think are like concerning but she really substance [into them]."
After Mitski faced a rapid rise of success from her 2018 album "Be The Cowboy," she considered retiring from music in late 2019 due to the industry's negative impact on her spirit, as reported by NME. A few weeks afterward, she wrote her single "Working for the Knife," viewing it as her beacon back to the world of music, as reported by RollingStone. 
"In general, I'm just really excited she's releasing new music because it's been like two years since her last album," Chauhan said. "I really loved 'Working for the Knife,' and I'm excited to see what the theme of this album is gonna be." 
Mitski's impact also transcends statistics and awards. According to Eagle's Scream, many of her songs highlight the life and struggles of the Asian American existence, including "Strawberry Blonde" and "Your Best American Girl." These songs feature themes of desiring companionship that are not overshadowed by cultural and ethnic differences.  
"I find Mitski really special because of the way she talks about Asian American struggles," Cha said. "As an Asian American, [Mitski] is very important to me because I can really [relate] to [her] songs and the issues [she discusses.]"
As Mitski ramps up for her album by releasing singles and an EP, "Love Me More," fans can purchase "Laurel Hell" themed merchandise on her website. Additionally, waitlist positions are still available for the American portion of Mitski's Feb. 17 through May 19 tour.
Leave a Comment
Donate to The Purple Tide
Your donation will support the student journalists of Chantilly High School. Your contribution will allow us to cover our printing and annual website hosting costs.
About the Contributor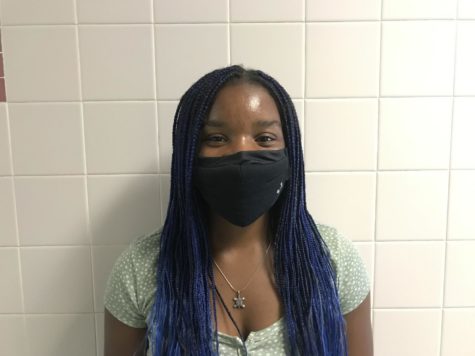 Jada McGlothin, Copy Editor
Jada McGlothin is a junior in her second year of the Purple Tide. She enjoys playing field hockey and soccer with her friends and doing yoga with her mom....