Staying safe: the realities of kidnapping safety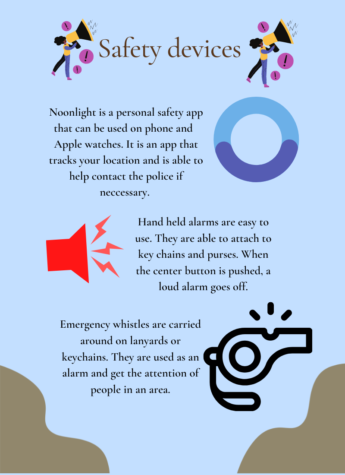 Whether it's leaving in the morning for school, coming back home in the afternoon or going out with friends at night, leaving the house is an everyday occurrence for high schoolers. According to the Fairfax County Police Department, there are 7,874 police reports that are against a person, such as assault and kidnapping, in 2020. 
National Missing Persons Day is Feb. 3 and was first recognized on May 25, 1983. President Ronald Reagan initiated this day because a young boy had been kidnapped off of the streets of New York City. However, the day is not a widely-recognized day.
"I've never heard about [Missing Persons Day]," Nandakumar said. "It's sad to hear [about a day dedicated to missing people]."
According to the Metropolitan Police Department of Washington., 2,234 people were reported missing in 2021 inside the metropolitan area. Reasons people may go missing include domestic violence, misadventure or being a victim of a crime. 
Fairfax County Public Schools does not teach self-defense or personal safety in classes. Being aware of surroundings and showing confidence in one's own ability in self-defense are ways to stay safe. Going out in groups is a way to stay safe due to having many sets of eyes that can watch surroundings.
Parents and teachers can help students understand how to stay safe. According to girlshealth.gov, the steps to staying safe are being aware of surroundings, being assertive, don't be willing to trust right away and being prepared for anything.
Self-defense classes are often available for those interested in taking them. Underground Krav Maga and Fitness is a center for learning self-defense for all ages. The Shoshin Ryu Martial Arts in Chantilly Virginia is another local business that specializes in martial arts and self-defense. 
In order to keep themselves protected, many students are careful not to stay out too late along with carrying safety devices including keys that are held in between the knuckles of a hand, alarms that are hand held, whistles and cell phones. Safety devices and being aware of surroundings can help students feel safe.
"My sister and I always make sure that the car is locked [when we are in it]," freshman Camille Dausch said. "We don't stay out really late, but if we do, we always have safety items."
Hand-held alarms can be bought with keychains through small businesses including Ariasresincreations and RisenHomeDecorShop, and both can be found on Etsy. Pepper spray and stun guns are not allowed for people under the age of 18. These items are also not allowed on school grounds, but hand held alarms and whistles are allowed. 
"I carry pepper spray with me," senior Shannon Herold said. "I keep it on my keys."
"
I believe that all students have different ways of staying safe, but we should have a better education of what can happen."
— freshman Camille Dausch
Common safety devices that students carry are smartphones and/or smart watches. Digital devices like these allow people to communicate in case of emergency. Apple's iPhone and Watch have an SOS feature that can be activated as long as the phone or watch is on. The Apple Watch has an automatic SOS fall detection feature that calls police 30 second alert that continuously gets louder, if the alert isn't stopped the authorities will be contacted. Samsung phones also include an SOS feature.
"I always carry my phone and make sure it's charged," Dausch said. "I make sure to talk with my mom about my location. I believe that all students have different ways of staying safe, but we should have a better education of what can happen," Dausch said.