Model Judiciary prepares for mock trial
A college freshman full of high hopes and a determination to succeed pledges to a fraternity only to fall 26 feet to her death on the last night of pledging into the fraternity. On trial for her death is frat president Chris Archer, accused of criminal hazing and first-degree murder. Although this scenario is fictitious, Model Judiciary members practice arguing the law in such cases.  
Model Judiciary members enact the roles of lawyers and witnesses for the mock trial that took place on Feb. 5 via Zoom. Model Judiciary Club is a practical way to learn and gain experience.
"The goal of the club is to expose students who may be interested in the law or how the law works to what a trial is like, from preparing for trial to arguing a case and putting on evidence," Law in Action teacher and club sponsor Keenan Goldsby said. 
As students got ready to take part in the mock trial, the prosecution and defense teams had to hunt for witnesses within the school who were willing to take the stand, as well as correlate meeting times in order to perfect their argumentation. Goldsby plays a role in guiding club members and coordinating with the program members in order to run the club smoothly.
"Although students do a lot of work outside of school, I make myself available to meet with students who may want to come in after school or during CT to help them prepare," Goldsby said.
Students who played lawyers worked towards crafting arguments, writing opening/closing statements and finding witnesses. On the other hand, witnesses made time to practice answering questions for their testimony.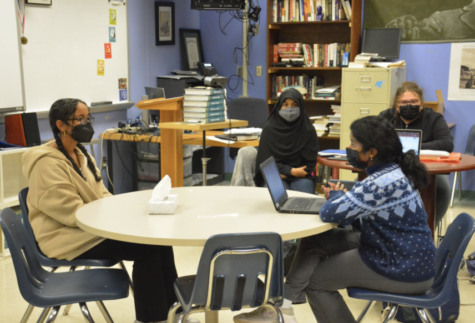 "I spend an hour after school to focus on Model Judiciary since I'm a witness and have to make sure I know the answers to all sorts of questions I may be asked during the trial," junior Shriya Seenuthoju said. "I try to memorize the important details of the case, and since I enjoy the [club], it's no trouble for me to find time to work on."
Other than the experience that comes from arguing a case in front of a real judge, Model Judiciary members gain many other skills. When students deliver opening/closing statements or answer questions as witnesses, they develop speaking skills. In addition, students obtain argument-making skills and critical thinking skills in terms of formulating questions.
"I didn't have any kind of public speaking experience, and I really hated talking in front of people, so I joined Model Judiciary," senior Millie Kim said. 
For students who are interested in Model Judiciary and want to involve themselves with similar opportunities, they could consider taking Law in Action which is an elective class where students debate over cases, learn about legal proceedings and interpret the law.  
"What I want [students] to take away is that they can be faced with what looks like a really difficult task that they may not know much about, or have never done before," Goldsby said. "Through hard work and a little bit of courage, they can do [the mock trial] and feel really good about themselves and learn about the justice system."