Homecoming Week recap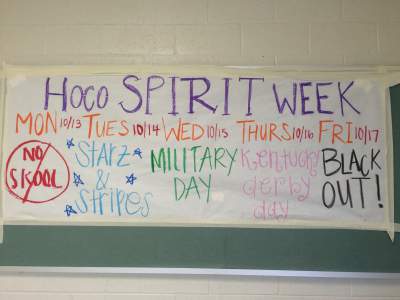 Every year, Homecoming week has a new wave of excitement that sets it apart from years past.
This year's Homecoming Spirit Week themes were Stars & Stripes, Military, Kentucky Derby and Black Out. Some of the students even combined something special to their costume to show their spirit as well as their personalities and hobbies.
"On military day, I [cosplayed] as Edward Elric from Fullmetal Alchemist," sophomore Elizabeth Bevins said.
Homecoming is a completely brand-new experience for freshmen. Some have been nervous with the dance, the dilemma of finding "the" dress, and dates, while others have just chilled and enjoy that week. That's what makes Homecoming so special.
"It [was] a fun week overall," freshman Kathy Lee said. "But I think the teachers should dress up for [Spirit Week] too."
Unfortunately, not everyone thought Spirit Week was "fun" and had suggestions on how to make it better.
"They should make the games during lunch more enthusiastic and maybe give out awards for best costumes during Spirit Week," junior Mishail Amjad said.

Homecoming week is one of the most exciting events of the year that keeps on improving every year. However, by listening to suggestions of concerning students, Homecoming next year is full of potential to be one of the best Homecomings yet.