Recycling revisited: inefficiencies expose system's challenges
During the 2022 Super Bowl, the American Beverage Association promoted its "Every Bottle Back" initiative to reduce waste by encouraging consumers to drink from plastic water bottles since their plastic bottles are "100% recyclable." 
However, many consumers might not realize how few of these single-use plastic bottles are actually recycled. According to the Independent Commodity Intelligence Services Recycle Supply Tracker, only 12% of 32.772 million tons of plastic waste were recycled in 2020, while 19% were collected for recycling.
Out of all industrialized countries, the U.S. creates the most municipal solid waste, meaning garbage or trash, per person on a daily basis. In 2015, the U.S. generated 262 million tons of waste, which is approximately 4.5 pounds of waste per person a day according to the U.S. Environmental Protection Agency.
While recycling is often considered as a solution to reduce waste, the system faces many obstacles. In 2017, China–the main recyclable material outlet for the U.S.—imposed a ban on plastic and other waste imports, requiring many countries, including the U.S., to improve their own recycling methods, according to the Yale Environment 360. 
"[The ban] helped clean up our recycling in general," Director of Engineering and Environmental Compliance for Fairfax County Eric Forbes said. "Markets in the United States are being set up…for recycling our own material, so we're not shipping them across the Pacific Ocean. We are able to process them here in the U.S., which is good for a circular system, keeping our materials that we are producing here."
However, despite the potential recycling has to reduce the amount of waste that goes to landfills or is burned, the recycling process is made less efficient because of common mistakes made by consumers when recycling.
Wish-cycling, common mistakes affect recycling system
Despite their well-meaning intentions, many people end up "wish-cycling;" recycling an item in the hopes it will be recycled when, in reality, it will not or cannot be recycled. Between 2012 and 2016, there was an 84% increase in recycled items being rejected, revealing a lack of knowledge and confusion surrounding the recycling process. In a poll conducted among students on Feb. 24, 35 out of 101 students reported that they do not recycle because they do not know all the specific rules of recycling, and 26 students reported that they get lazy and find it easier to put items in the trash.
"I wish we could switch that psychology because [with] recycling, when done properly, the materials actually have value and are recycled," Forbes said.
Common items that should not be thrown into curbside pick-up recycling bins include food-tainted items, plastic foam and glass. For Fairfax County government recycling services and most private recycling services, only paper, cardboard, hard plastics (plastics one and two) and aluminum can be recycled. However, as a precaution, people should double-check with their private trash company's policies.
"Homeowners hire private trash companies [so] one company has one policy and another [company] has another policy, and there's not a clear directive [of] what you can recycle," science teacher and sponsor of the Students for Environmental Activism (SEA) club Anne Fenton said.
When people improperly dispose of items, recycling workers have to take more time to sort and remove those items. For example, when people try to recycle plastic bags, the bags end up getting caught in the machines at recycling facilities, forcing workers to untangle each plastic bag by hand. 
"Sometimes [recycling plants] have to shut the entire line down and have workers manually strip away the plastic bags, which is both dangerous, time-consuming and inefficient," member of the Virginia Recycling Association's board of directors Christine McCoy said.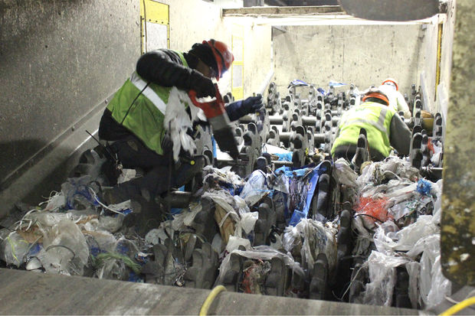 The practice of "green-washing" further contributes to the waste problem. Green-washing is when companies and corporations falsely label their products as recyclable, which can lead consumers to believe that the product is environmentally friendly when in actuality it is not. A 2019 report on recycling by the Consumer Brands Association found that 68% of Americans polled mistakenly assumed that any plastic product with a numbered triangle on it, known as a Resin Identification Code (RIC), would be recyclable. The resulting confusion drives consumers to produce more waste and leaves them with an inaccurate understanding of recycling. 
"Producer responsibility is really going to help us," Forbes said. "If we can get the producers of the materials that we are talking about to change, then it will make it so much easier for users to make the right decisions."
Fairfax County advises individuals to recycle based on type (plastic bottles, jugs, etc.) as opposed to recycling by the item's RIC when trying to organize plastics. 
Community initiatives, innovations reduce waste
To break barriers in the technology of recycling, many organizations and individuals have started new initiatives and projects. In 2021, Fairfax County created the Zero Waste by 2030 initiative in hopes of reducing the total amount of waste generated by 25% and divert 90% of waste away from landfills. By 2025, the county seeks to place limits on restaurants' use of plastic foam packaging as one of the plans to reduce waste.
"I think it's a great idea," Malatinszky said. "I think outlining specific plans is the important part of making actual change. A combination of both stricter rules [and] guidelines that I think should be or could be laws and funding programs will help the environment."
Fairfax County and certain private waste disposal companies also stopped accepting glass containers as part of the curbside recycling programs in October 2019. Instead, most Fairfax County residents are now asked to bring their clean glass jars and bottles to one of the purple recycling containers that are situated at various places around the county as provided by the Purple Can Club. 
Before the program, glass created several problems for recycling when collected in a single stream system: glass containers would break and contaminate other materials during transportation, contaminate the machinery at material recovery facilities and were too heavy and expensive to transport.
"[When] glass breaks up, it will stick to the other valuable materials like cardboard and that's a contaminant that lowers the value," Forbes said. "Imagine you go to the beach and you get sand on your legs. It's the same thing [as] the glass breaking up—it sticks to everything else."
Fairfax County has been able to crush the glass collected from the purple containers into sand, gravel and new glass bottles.
"We can use that material in public works projects instead of using quarry bluestone [which leads to] a whole slew of greenhouse gas savings, cost savings and benefits all around," Forbes said.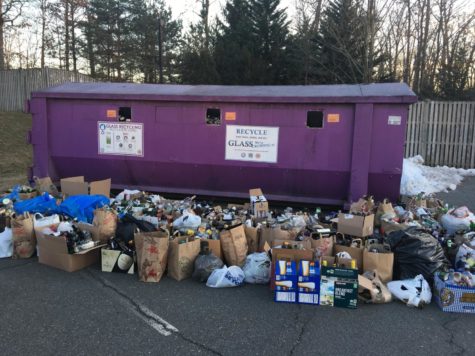 Furthering recycling efforts, individuals like seniors Katelyn Gallaher and Julie Fitzhugh work to provide glass-collecting services for families around the Chantilly area for $5 and recycle it at the Purple Can Club bin drop-off located next to the Fairfax Government Center.
"Julie [and I] are both in the SEA and working towards becoming zero waste," Gallaher said. "Since glass is your infinite renewable source, recycling it is really important."
CHS participates in the Trex Company's plastic film recycling challenge, where schools across the nation race to recycle the most plastic film in hopes of winning a composite bench and other awards. The Virginia-based company uses plastic film and bags, items that typically cannot be recycled in standard centers, to make composite decking and railing. Multiple Trex bins are located throughout the science hallway.
"I love that [Trex] is encouraging people to recycle, and I love that it gives people a place to do so," Malatinszky said. "I think for the time being, it's a great solution. But I also think the important part of it isn't necessarily this specific collection. It's building the habit of finding out that there are places where you can recycle thin plastic and making a habit of doing so."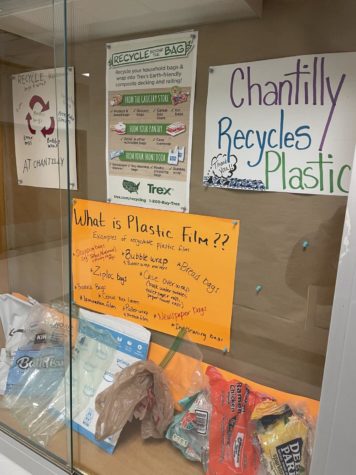 Despite the current struggles with recycling, new projects and technological innovations give environmental activists like Fenton hope for the future.
"There are people making bricks out of recycled materials in other parts of the world," Fenton said. "People will start coming up with new ideas [and] a new approach based on a need [so] I am hopeful."
The other R's: reach out, reduce and reuse
Before considering recycling, Fairfax County emphasizes three other R's to reduce waste: reach out, reduce and reuse. To start, experts suggest reaching out first to educate those who lack knowledge of effective environmental practices. By understanding local waste pick-up system rules and the effects of waste-encouraging actions, change can become more widespread. Forbes believes that informed individuals can have the greatest impact.
"We can learn what materials are actually recyclable," Forbes said. "Then, we share that with family or friends," 
In FCPS, the environmental stewardship program Get2Green guides and provides resources for schools in the county through Project-Based Learning and the Global Classroom Project to educate residents in the county from a young age.
"They never really taught us about recycling; you learn about it in the first grade," freshman Parker Anderson said. "They should teach [recycling] more in high school because that is when you start doing stuff on your own."
To reduce, one can buy less in general or choose to purchase items that are made of recyclable or reusable items.
"We absolutely do encourage source reduction and waste prevention [before recycling]," McCoy said. "Sometimes, people don't think when they're purchasing things at the store. Like, do you have to buy your eggs in Styrofoam? No, they have pressed paper cartons. You can put that in your recycling bin."
Furthermore, Common Objective reports that 57% of discarded clothes end up in landfills each year. To prevent this, consumers can donate used clothes to charities such as Goodwill. Donations can't be damaged and Goodwill provides an extensive list of what items they will accept on their website. Freecycle is another option for donating items that may not be accepted by other charitable organizations.
Reusing items, such as water bottles, metal or glass straws and bags for groceries, can make a positive impact on the environment aside from recycling.
"If you use [a] reusable water bottle rather than a regular plastic water bottle, you don't have to recycle the plastic water bottle," Forbes said. "You are reducing that waste from even being needed or generated."
Every day, people make decisions that impact our environment, whether it is throwing an aluminum can in the recycling bin instead of the trash or drinking out of a reusable mug instead of a foam cup. The key to making informed decisions and developing habits is to understand the lasting impact of those decisions on the environment. 
"I think it's important to do the little things every day because building the habit is important [and is] something you'll keep for your whole life," Malatinszky said. "As great as it is to recycle or throw things away correctly one time, it's not [going to] make a real difference unless you do it every time."