Personal column: stigma harms those with food allergies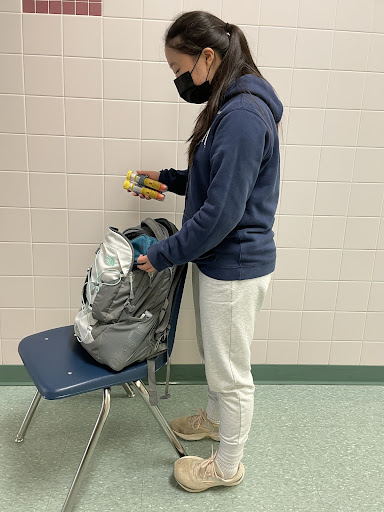 Beep beep. The microwave buzzed, signaling that my food was ready. I sat down with my bowl of maple oatmeal, exhausted from practice and online school. I took one bite and then another. Almost immediately, my lips felt chapped, an itch grew in my mouth and the saliva on the back of my throat dried up. My throat constricted and I started coughing for air, like a covert intruder had put me in a chokehold. I knew instantly what was happening.
Two EpiPens (a dose of epinephrine each), a trip to the emergency room and a round of steroids later, my appetite was diminished, so I headed to sleep, right before the first day of in-person school.
I am severely allergic to peanuts, tree nuts, soy, beans and peas. Food allergies, especially severe ones like mine, need to be taken seriously. They can be life-threatening conditions that impair one's quality of life. Yet, too often, those with food allergies are made fun of and their allergies are dismissed. 
Inaccurate depictions of food allergies in television shows, movies and books are detrimental to those who suffer from food allergies like me. The misrepresentation of allergies leads to miseducation, which can have devastating and even fatal effects.
In one scene in the 2021 romantic comedy, "Love Hard," the main character suffers an allergic reaction from fruit-flavored shots. Subsequently, her face grotesquely balloons up and she stumbles around while singing as other bar-goers catcall her. After recognizing her reaction, her friend stumbles around wondering how to help her, ultimately taking her to a veterinary clinic for treatment.
When food allergies–and even worse, reactions–are used for comedic purposes, audiences tend to learn from these inaccurate portrayals, undermining and endangering those with food allergies. In many real life situations, someone suffering anaphylaxis would need to be treated in a matter of minutes of consuming the allergen, according to the Mayo Clinic, so these depictions of delayed treatment provide contradicting information to what many reactions require.
Apart from these more adult, for-laughs based portrayals, food allergies are poorly depicted to a variety of audiences, including young children. According to the New York Times, Sony apologized for their 2018 Peter Rabbit movie in which characters defeat the villain by flinging a blackberry in his mouth, hoping to give him an allergic reaction to debilitate him. The titular character and his friends escape while the villain experiences anaphylaxis–a severe allergic reaction–thus collapsing, as he is unable to use his EpiPen. 
According to FARE, 49.6% of the general population believes that television is the best way to learn about food allergies. In addition, according to KidsHealth, displaying inappropriate behaviors on television leads audiences, especially kids and teens, to copy these actions. As such, inaccurate depictions of allergy treatment may increase the chance that someone suffering an allergic reaction is not properly treated or their allergies are dismissed. According to the American College of Allergy, Asthma & Immunology, one in five food-allergic children are bullied because of their food allergies. 
It's time to stop dismissing food allergies as a source of embarrassment. While there are new trials and therapies that reduce allergy sensitivity, the majority of those with food allergies will remain food allergic. Media depictions of allergies that are created to induce audience laughs at the expense of characters' painful reactions spur dangerous miseducation, fostering stereotypes associated with weakness and lameness. 
And while a glass of almond milk or some hummus could prove fatal to me, that is a significant part of my life I must navigate; however, I deserve the same respect towards my eating habits and daily challenges as someone who can happily eat a peanut butter and jelly sandwich.