Get brighter, healthier skin with simple skincare trends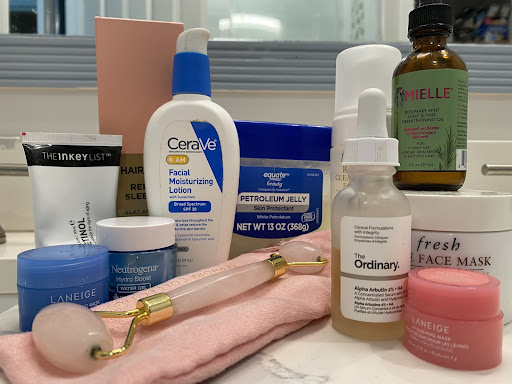 From pimple patches to skincare fridges, social media has become the top destination for discovering unique skincare trends. Social media may not be the birthplace of these facial hacks, but apps like TikTok and Instagram have become a platform where they can flourish. Some trends have gained even more popularity than others, and their users have seen many positive effects.
Slugging
A simple practice that locks moisture in the skin's barrier, slugging is the fancy new term for applying a layer of petroleum jelly, often Vaseline, to the skin before sleeping and keeping that layer on overnight. After cleansing one's face and applying daily moisturizing products, one may load large amounts of Vaseline on their face in circular motions for even spreading. To prevent the petroleum jelly from rubbing on the pillow throughout the night, some cover their pillow with a towel and avoid over-applying the Vaseline.Though it has been popularized as a face treatment on social media, it works on other parts of the body as well, with identical steps.This practice has gone viral on the internet and many who participate in this trend wake up with silky soft skin.
"I started slugging to keep my skin moisturized, especially in the warm weather," sophomore Lidya Beniyam said. "This technique has reduced the dryness in my skin and leaves it smoother. My forehead used to get kind of flaky, but after using Vaseline on it, it's much more moist."
According to EveryDayHealth, slugging works best for people with normal to dry skin. It can often worsen acne breakouts, hyperpigmentation and may even trap dead cells, bacteria and oils in already oily skin. 
"[Slugging] depends on your skin type," Beniyam said. "If you have naturally dry skin like me, this technique is perfect, but if your skin is naturally oily or neither dry or oily, it may not be the right thing for you."
Gua sha
As skincare tools such as jade rollers and facial razors continue to be prominent members of the skincare stage, the ancient Chinese healing stone known as the gua sha is moving towards the spotlight. 
According to NBC News, a gua sha is proven to promote blood circulation, reduce wrinkle lines and relieve tension from muscles. Its popularity has rapidly increased on TikTok with #guasha accumulating more than 432 million views. 
The recommended procedure to use a gua sha is to first apply a facial oil to allow the gua sha stone to glide along the face easily with no bruising and then move the longer end of the tool along the spots where one may want their skin to appear to look lifted, according to Healthline. Repeat 10-15 times in one direction and repeat daily. Users online have claimed that this beauty tool has provided a sculpted appearance and cleared their skin, and some students feel the same. 
"I started using a gua sha when I heard that it relieves tension in your face and prevents wrinkles," junior Kaavya Karthikeyan said. "I first heard about it from my friend because she saw many positive effects, and since then, I consistently do see results. My skin has become more vibrant, and my eyebags definitely look less dark in the morning."
Available for purchase at Walmart, Target and Amazon, gua sha is an inexpensive tool at an average cost of $10. 
"I've been incorporating a gua sha into my skincare routine for about a year now, and I have no regrets," Karthikeyan said. "It reduces my morning puffiness, and it's just a quick and easy product to include in my daily routine."
Skin icing
After becoming a popular morning and evening ritual for better-looking skin, icing one's face has taken over the internet with its numerous benefits. A regular practice in Korean skincare routines, it is a cryotherapy treatment when skin is exposed to extremely cold temperatures for several minutes. According to Cleveland Clinic, icing is said to soothe redness, lessen the appearance of pores and allow for a radiant, brighter face. 
"I started skin icing at the beginning of the year, and I definitely see a difference in my face," freshman Leila Zarnegar said. "It has made my face much brighter and is also very easy and quick to do, which lets me include it in my daily skincare routine."
Start the process by placing a few ice cubes into a soft cloth or paper towel, and once the ice starts melting and the liquid wets the cloth, apply the wrapped ice to skin, gently pressing on the sides of the face. However, performing this ritual too often for one with sensitive skin could cause more acne breakouts. Another popular variation of skin icing that has recently risen is washing one's face with cold water.
"I saw this trend on TikTok and I decided to try it once," Zarnegar said. "I had to fill up a bowl with water, drop many ice cubes in it and immerse my face in the frigid water. My skin was irritated right away, but after a few minutes I could definitely feel some benefits. I don't think I will include this in my daily routine, but it would be nice to do for special occasions."