Anti-gay, trans legislature harms LGBT students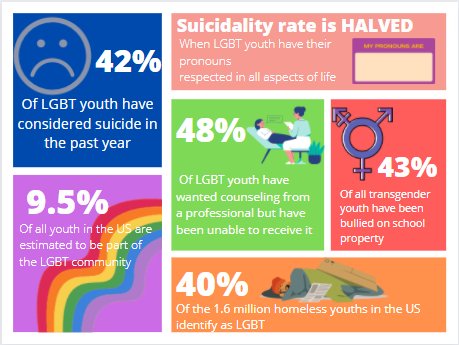 The legalization of gay marriage in 2015 was a pivotal moment for the LGBT community; however, the fight for equal rights since then has often been an uphill battle. Schools have served as one of the main stages for this debate, where the right of students to express their gender and sexuality has been limited through the years.
Schools are the cornerstone of society, not only serving to educate young people in the U.S., but also giving them a place to socialize, pursue passions and prepare for their futures. They also provide students with a place outside of their homes where they can feel safe, surrounded by adults and peers who want them to succeed.
Diversity in schools is also growing increasingly important. According to Queen's University of Charlotte, studies have shown that students work better and benefit more from their education when more students of different backgrounds are in the classroom with them, leading students to push themselves more and improve their creativity. 
Knowing how important both safety and diversity are within schools, the state and federal governments should be working to make schools the safe spaces that kids need—but in states like Florida, this hasn't been the case. 
According to NBC, the passage of HB 1557, also known as the "Parental Rights in Education" bill, by the Florida Senate on March 8 limits teaching in a "manner that is not age-appropriate or developmentally appropriate for students," explicitly banning the teaching of gender and sexuality to students from kindergarten to third grade. 
Supporters of the bill and others that limit education about the LGBT community claim the reasoning behind their passage is to respect the right of parents to instill what beliefs they want in their children, and they believe this right should not be given up at school doors. Some supporters also claim that expressions of sexuality have no place in schools, especially not expressions by LGBT students. 
Alienation of any group is objectively harmful, but the consequences become more serious when the high-risk status of young LGBT people is considered. According to a survey conducted by the Trevor Project in 2021, 42% of all LGBT youth responded that they had considered committing suicide in the past year, 75% responded that they had experienced discrimination for being LGBT and 93% responded that recent politics had a negative effect on their mental health. Additionally, a disproportionate number of LGBT youth are affected by homelessness compared with heterosexual and cisgender youth. 
From this perspective, the purpose of anti-LGBT legislation seems to be avoiding the discomfiture of one small group of people at the expense of a large number of young LGBT people, whose entire futures could be compromised by alienation: a glaringly unequal exchange. 
The consequences for LGBT students due to anti-LGBT bills like HB 1557 greatly outweigh any perceived benefits, as they expose LGBT youth to potential discrimination and convey to gay and trans students that they do not have the same freedom to express themselves as cisgender and heterosexual children do. 
Although protecting the right of parents to teach children their ideals is an important motive, punishment of LGBT students for existing within schools and reducing the amount of access all students have to information about being LGBT is the exact opposite approach that should be taken. Rather than creating a hostile environment where ignorance flourishes instead of knowledge, schools should be fostering an environment where every child feels supported and safe, allowed to make their own judgments instead of having information hidden from them.