Students for Environmental Activism make strides to keep watersheds plastic-free
In recognition of Earth Day, Students for Environmental Activism (SEA) set up a clothes collection drive and planned the annual watershed cleanup. Along with SEA's personal projects for Earth Day, they plan on participating in the Trex Plastic Film Recycling challenge by setting up a separate collection box for it. 
"We try to promote living in the most environmentally friendly way possible by providing lessons and drives and bringing in speakers to talk about relevant issues," senior Lili Malatinszky said.
SEA hopes to provide a different opportunity for students to get rid of clothes instead of throwing them away. A drive was set up in front of room 142 until April 22 to collect gently used clothes that students don't need.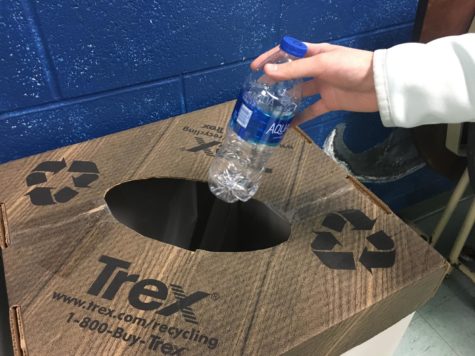 According to the U.S. Environmental Protection Agency, 11.3 million tons of textiles were sent to landfills and 2.5 million tons were recycled in 2018. Also some donation drives trash the donated clothes instead of reusing them or giving it away.
SEA plans to send all the donated clothes to Afghanistan and Ukrainian refugees, specifically to those who had to leave their country quickly without everything they wanted or needed to take.
"By showing people that there are other things they can do, they can minimize waste and think about consumerism," club sponsor and science teacher Anne Fenton said.
Trex, a wood alternative manufacturer for outdoor items, hosted a thin Plastic Film Recycling challenge for all schools from Nov. 15 until  April 15. The winning school of the competition were third grade students from Whitehouse school in Whitehouse Station, NJ. According to Trex, the program was about creating an appreciation for the importance of recycling in students. Thin plastics are not recycled through the same process as normal plastic, and they can be easily converted into other products. The ease in recycling thin plastics makes it beneficial to separate it from regular plastics.
"[Trex is] teaching students healthy competition and showing other ways to take care of your materials other than throwing them away in the trash," Fenton said.
The SEA is planning to continue their annual watershed cleanup. The upcoming project provides an opportunity for students to earn service hours. The SEA chose to focus on cleaning up watersheds as it provides a hands-on experience.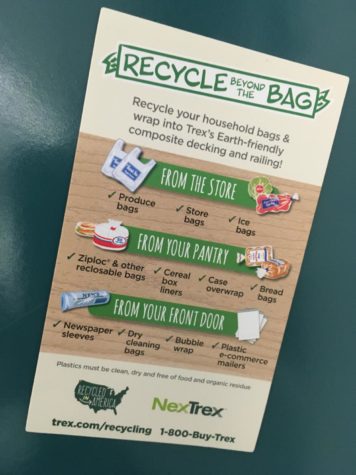 "People should care about cleaning up their watersheds because it affects wildlife and our quality of life," sophomore Kheya Siripurapu said. "Clean watersheds equal clean surface water sources and clean communities."
According to FCPS, students show the skills of an ethical and global citizen through contributing to solutions that help the community. By working together to solve a problem that benefits others, they show the portrait of a graduate skill of a collaborator. 
"Getting everyone a little bit involved in environmental protection can be a lot more effective than just one or a few people," Malatinszky said.
Students can get involved with helping the environment by buying items in bulk, recycling and, using reusable containers, grocery bags, according to the Green Education Foundation. By involving themselves in cleanup, students make their community a better place for both the residents and the ecosystem around them.
"Being a good citizen means you participate in your community in various ways and [give] back to your community," Fenton said.