Tennis players launch into season with less restriction
As the neon ball flies over the net, bounces on the court and sails back toward the first volley, the boys and girls varsity tennis teams prepare to serve in this season. 
According to Chargers Athletics, tennis tryouts were held from Feb. 21 to Feb. 23 after school. Players were tested on their physical abilities, speed, agility, stamina and strokes. From that, the boys coach and the girls coach created a roster and narrowed down to the top 12 for the team. To get all players ready for these tryouts, conditioning took place, from Feb. 16 to Feb. 21.
"We usually start off by just hitting the ball for 30 minutes," varsity tennis player and junior Nikita Sirigiri said. "Coach Patrick is really focused on improving our endurance, so we do a lot of running, sprints, lunges and sit ups."
Team members play in practice matches against each other to polish their skills before an official game against another school. Practice starts with warmups through some jogging and stretching. Then the team begins rallying, doing some hitting drills and depending on time, playing some practice games.
"The practices are fun because it allows me to play with different styles of tennis," varsity tennis player and junior Ethan L biu said. "Normally we run a mix of drills based on what we need to improve on so it's a great way to get better."
Whether it's practicing with family members or conditioning on their own, the team focuses on different skills to improve and get ready for competition. In a match, one skill is a groundstroke, which is when either a forehand or backhand stroke is used to hit the ball after it has bounced on the court.
"I have been playing for six years now, [including] four years competitively, and my best skill is groundstrokes because I think I've gotten pretty consistent with them," varsity tennis player and junior Natasha Guharoy said. "However, my goal is to become faster on the court and more confident in my skills so that I can perform better when I compete." 
Apart from individual goals, the team is working toward winning a majority of their matches making it past districts and going to states. The 2019-2020 school year season was cut short to two weeks, and last year's season was adjusted due to COVID-19 restrictions. However, players now feel a sigh of relief and can experience a full season with less social distancing rules. For example, masks are no longer required on the courts for vaccinated students according to the Virginia High School League policy. 
"Currently, there aren't many setbacks due to the pandemic except [that] all the indoor courts are taken in the winter," Liu said. "It's hard to play and maintain my game in the winter due to court shortages."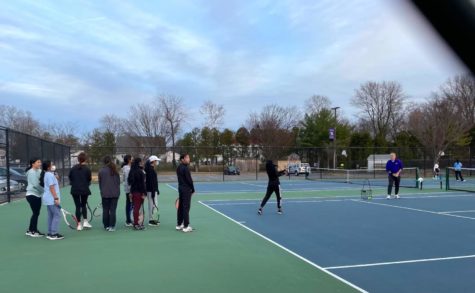 Regardless of past disadvantages, the tennis team this year will be experiencing regular scrimmages and games. The next girls and boys varsity game is against Westfield High School on March 23.
"My favorite part of being on the team is definitely the matches," Sirigiri said. "Even though they're typically long, I love watching games and cheering for my teammates, as well as playing. I also love planning senior night and team dinners."