Hangout hotspots spice up summer relaxation
From the serenity of undulating lakes on a breezy day to the exhilaration of hangout hotspots with friends and family members, summer vacation holds a variety of options during the break; without needing to plan an itinerary far from home to relax. Available within an hour or less drive from CHS and with minimal planning, these easy options are just as fun to enjoy summer nearby.
Lull along the lakes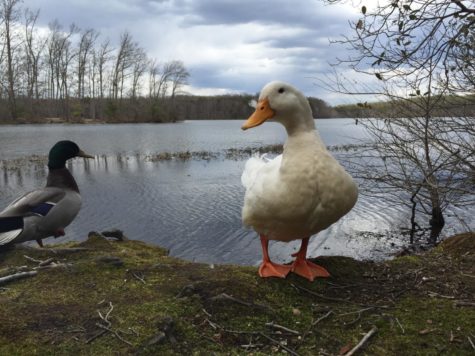 Gazing upon the serene view of nature, a variety of ducks, geese and other birds can be seen while taking on strolls along Burke Lake park in Fairfax Station. The rugged 4.7 mile trail loop that surrounds Burke Lake is a way to take in the outdoors. Many birds such as the Mallard, American Pekin Duck and Canadian geese can be spotted on the trail. 
"When it's summertime, it's really good [at the lakes],especially when it's breezy," freshman Inah Jacob said. "It's overall very nice to walk, but the ducks might chase you if you go near them, so be on the lookout for that."
In addition to the park's scenery, when walking, biking or jogging the trail, the park provides many recreational activities, including fishing docks, boating and rowboat rentals. 
"I like how open the lake is and the fact that they have nice areas for barbequing," Jacob said. "I got to go around on a boat and fish which was a really fun and calming experience." 
Burke Lake is open from sunrise to sunset. Other popular lakes are located in Fairfax County such as Lake Fairfax and Lake Accotink. View www.fairfaxcounty.gov for more information on recreation and parks.
Frenzy about fashion 
Taking a sip of brewed bubble tea while browsing racks of clothes in the warmth of the sun at Tanger Outlets National Harbor is another way to spend summer by shopping. Located in National Harbor, Maryland, the mall has a variety of clothing stores with the  latest fads and accessories in style. Throughout Tanger Outlet's outdoor open layout, under the cool shade canopies, water fountains are seen while navigating the walkway. Teens looking for popular clothing stores can also go to Fair Oaks Mall or Tyson's Corner, to find stores such as Hot Topic, Forever21 and Aerie.
"What I like about the mall is probably the clothing stores with a lot of eye-catching clothes," freshman Carly Lepage said. "I recommend the mall as a good hangout place because the stores have a lot of nice outfits to choose from while shopping."
As well as selling clothing including discounted and affordable options in the outdoor outlet and in Fair Oaks, both malls contain fast food and beverages.
"After shopping with friends I like eating at the food court and local restaurants by Fair Oaks,"  Lepage said."Hibachi Grill has really good bento boxes, as well as Cheesecake Factory with a lot of good food that's there."
All three malls are open daily. For more information visit www.tangeroutlet.com, www.shopfairoaksmall.com and www.tysonscornercenter.com.
Cozy-up to cafes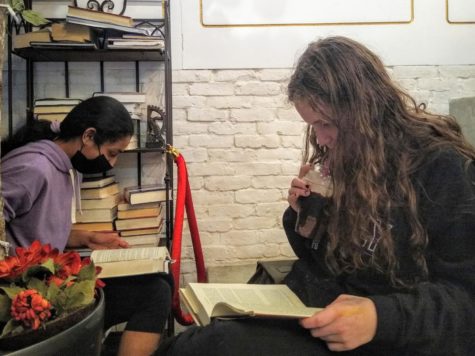 The comforting aroma of coffee fills the interior atmosphere of Chateau de Chantilly Cafe. From pastries to coffee and lattes, Chateau sells sweet goodies and treats to satisfy taste buds. Its welcoming and picturesque atmosphere has attracted students and provided a nostalgic place to come back to while hanging out for hours with friends.
"Chateau looks very aesthetically pleasing with the library nook and piano in the back," freshman Sarah Dodson said. "The chill ambiance enhances the eating experience, making it so enjoyable to snack at."
As well as inside the cafe, the bakery has tables set up outside for an outdoor dining experience, in which students can sit in the summer sunlight. 
Chateau Bakery is available all days of the week, from 7 a.m to 11 p.m. Along with Chateau, there are other cafes located in Chantilly, such as Shilla Bakery and Pastry Corner Bakery & Cafe.
From this variety of options, students can choose to take downtime not only with friends and family, but also with themselves as the anticipation of summer vacation continues- no matter where they choose to spend their vacation.
"It may only be another summer but I'm not taking my relaxation for granted," Dodson said. "Being able to have an actual break to go to places for leisure is a nice change of pace that we all need sometimes."