Superintendent plans to incorporate different voices in community
Admiring the mighty armor set in the library while dodging potted plant leaves, Dr. Michelle Reid, new superintendent of Fairfax County Public Schools (FCPS), exchanged opinions on bettering the county's education system with students, faculty and families of the Chantilly pyramid at a community conversation. Prior to the meeting, which took place on Aug. 31, Reid also shared her understanding of the importance of student voices.
Previously serving as superintendent for Northshore School District in Washington, Reid became the superintendent of FCPS on July 1. Since taking office, she has attended many similar school visits and town halls to learn more about the FCPS community.
"Learning happens best in community, and the health of our community [is] reflected in the health of our schools," Reid said.
At the event, parents expressed their opinions on the county's curriculum design, including how they wish to have more college-level programs for students who have such needs.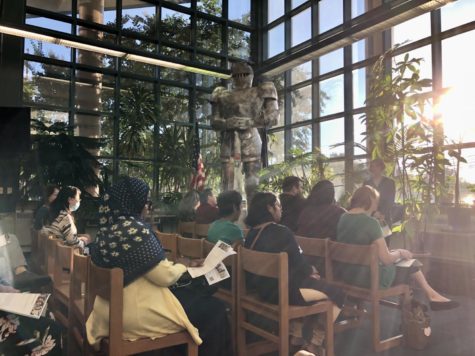 Reid mentioned that this involves balancing the county's staff and resources and promised to look more deeply into the matter. She also said the county is trying to introduce more partnership and internship programs for high school students.
"We are always continuing to work to improve opportunities for our students with special education needs or resource desires," Reid said. "The point is to have an individualized program that suits each student uniquely."
Recent policies, such as changes to the 2022-23 school year calendar and cell phone use at schools, were also brought up.
Reid explained that the expansion of the school year results from built-in snow days as well as newly-added student holidays, including Veterans Day and several religious and cultural holidays, such as Yom Kippur and Diwali.
"I think we've been really intentional in Fairfax County about including holidays in our student calendar to be more inclusive of a variety of cultures and faiths," Reid said.
Senior Brian Ng pointed out at the conversation that while the new phone policy is based on good intentions, its focus needs to shift from punitive measures to nurturing good habits.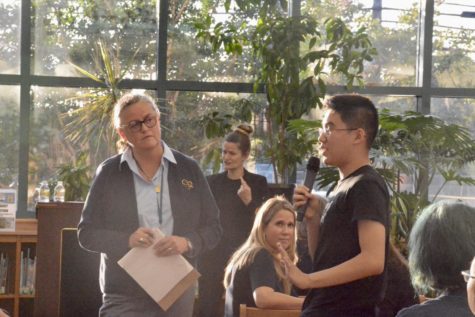 "We are going in the right direction with that policy, which is to make sure phones aren't used to inhibit learning," Ng said. "But from the students' side, we need to be careful about how positive habits are going to follow them without the negative consequences [brought by punishments.]"
Reid believes that, as county-made regulations are targeted toward students, it would help to have more student involvement in the policy-making process. She points out that student opinions on school policies, like those made by the Student Rights and Responsibilities Committee, could be collected through the Office of Communication and Community Relations.
"
It's important to think about our youth not just as the leaders of tomorrow, but the leaders of today.
— Dr. Michelle Reid
"It's important to think about our youth not just as the leaders of tomorrow, but the leaders of today," Reid said. "If [students] could come back to me and say 'this is how we want to engage,' that would enable me to be more thoughtful about [how student voices can be heard]."
Reid welcomes opinions and suggestions from the FCPS community. Students, faculty and families can contact the superintendent's office through submitting a question on the FCPS website, or emailing Dr. Reid at [email protected].
"I am honored to serve you," Reid said. "[I'm] looking forward to serving and supporting you and seeing student activities, athletics and academics. I'm excited to be a part of the community."