Black Panther returns to theaters after six years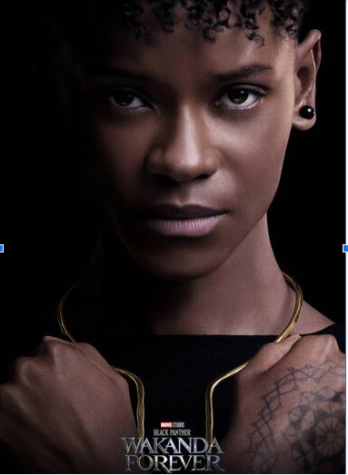 The views of the new "Black Panther" trailer have now surpassed 27 million. Since 2018, fans have been waiting patiently to see King T'Challa appear on screen for the first time since "Avengers: Endgame." But as the trailer hits the 2:11 time mark, it becomes clear that he is no longer here with us. There is a new leader and a new Wakanda.
With a Nov. 11 release date, "Black Panther: Wakanda Forever" is directed by Ryan Coogler, who co-wrote the screenplay with Joe Colbert Cole. The sequel takes place after the events of "Avengers: Endgame" and the death of King T'Challa will be revealed at the start of the movie. The new leaders of Wakanda: Queen Ramonda,  played by Angela Bassett; Shuri, played by Letita Wright; M'Baku, played by Winston Duke; and Okoye, played by Danai Gurira, fight to protect their country from intervening world powers. The heroes must work together with Nakia, played by Lupita Nyongo, and Everett Ross, played by David Busch, to pave a new pathway for their beloved kingdom. 
"I don't have a specific prediction for the movie, but I think there will be a big change in how Wakanda is run, " junior Shawn Matthias said. "I expect there to be a new leader and a big plot twist, since the past few Marvel movies have had big plot twists." 
According to "Entertainment", the movie is meant to be a tribute to Chadwick Boseman, the actor of T'Challa, who tragically passed away in 2020. Boseman's death shaped the plot of the film and the grieving process will be an important part of the story, which will be portrayed by the characters' grief of T'Challa. The cast and crew wish to expand the world which he has brought to life and transition to a world without him, according to "The Direct".
"Hopefully it won't feel like they put together a solution at the last minute and that it's done well with respect to Chadwick Boseman and his character," senior Shiema Dafaallah said. "I think that Marvel has a tendency to be able to pin sad story lines and add that to the plot and the development of characters. I think it'll end up aiding the movie." 
Additionally, "Black Panther" has received significant praise for defying traditional gender stereotypes and portraying the strength in female characters. There are a number of Black women in powerful  roles and Shuri, T'Challa's sister, is set to be the new leader of Wakanda with the help of her mother, Queen Ramonda, and CIA ally, Everett K. Ross.
"The empowerment of women is a part of "Black Panther" that I find inspiring," senior Nisha Shankar said. "There's no set gender roles in the Wakandan society and women are considered to be warriors of an elite status. I think that fact represents how women in society are strong and able."  
"Black Panther " is also legendary for introducing the first Black superhero and its race conscious casting, since it is an almost entirely Black lead cast . Although there is no announcement of a third movie,  Marvel is known to turn sequels into series and there is speculation about whether there will be a third Black Panther movie. 
"I really hope there is another 'Black Panther' movie because he is such an inspiring hero to many kids and has made an impact on so many lives," senior Michelle Shadeer said.