Unique dessert recipes sweeten up Thanksgiving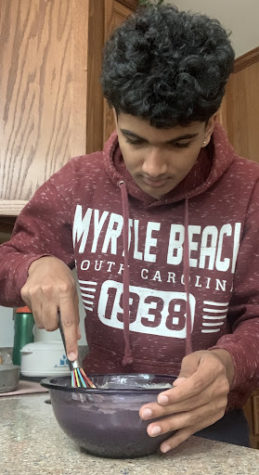 Fall staples are often classic comfort foods in a big Thanksgiving feast. However, having the same dishes annually can be more monotonous than nostalgic. Three Thanksgiving desserts in particular offer a fresh twist on the classics and  will have guests clamoring for the recipe.          
Chocolate Panettone
With its loaf of Italian sweet bread speckled with raisins and almonds, panettone is an annual fall treat for many. Typically only sold during the autumn months, it is an exclusive yet popular sweet. Just a couple of ingredients can make this a special dessert for the Thanksgiving table.
"I have been making chocolate panettone ever since I was in elementary school," junior Hrishik Dodda said. "It's a family tradition that we invented and it's always been very easy and quick to make, which is really helpful since there are so many time-consuming components in a Thanksgiving dinner."
 The preparation for this dessert merely takes 30 minutes, with a large portion of the total time spent in the refrigerator. It's oven-free ease makes it an appealing option for students.
"This dessert is extremely easy to make and is also very different from the classic pumpkin pie, while still maintaining fall flavors," Dodda said. "It only takes me an hour to prepare the ingredients and can even be made days prior to Thanksgiving because it tastes best cold."
To elevate this dessert even further, place fresh fruits and drizzle simple syrup on top.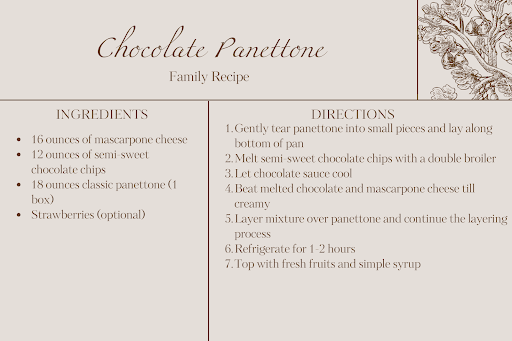 Knafeh
A traditional Middle Eastern dessert, knafeh is extremely popular with its shredded filo dough crust, sweet cheese filling and rose water flavored simple syrup. Served hot or cold, this dessert takes less than two hours to prepare and its bright orange and green colors make it a vibrant addition to decorate the dinner table.
"This is always the dish I look most forward to on Thanksgiving," junior Talia Natour said. "Our family always takes a spin on traditional Thanksgiving dinner by incorporating our Lebanese roots to the dishes we prepare. This is something that I really enjoy since everyone always has the same meals for Thanksgiving, but I always get to look forward to a unique meal."
The ingredients for this dish include water, granulated sugar, rose water, lemon juice, Kataifi dough, butter and sweet cheese. Pistachios and powdered pastry coloring can also be used to further refine the dish. 
Although it requires s a longer preparation time of one hour, its tasty results can outweigh the intricate process 
"As a family, we all make this dish together to make sure everyone is a part of the process," Natour said. "It's one of my favorite desserts and is a good break from classic Thanksgiving desserts."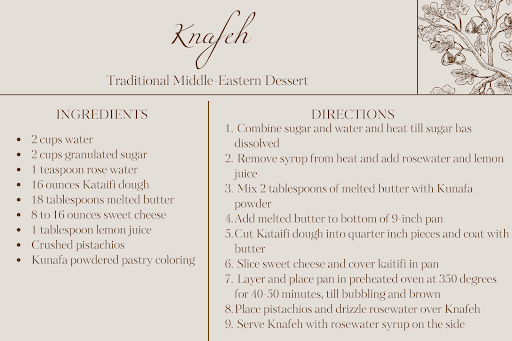 Pumpkin Mousse
A dessert that steps away from the classic pumpkin pie while keeping the same flavor is pumpkin mousse. A quick and easy Thanksgiving dessert to prepare, the total prep time is just ten minutes and can "pumpkin spice" up one's big meal. 
"My family and I do not like pie so this was a really good alternative we found," sophomore Jillian Felder said. "Everyone always makes either a pumpkin or apple pie for Thanksgiving and since we really love those flavors, we decided to keep them but incorporate it with a different type of dessert."
This mousse is easy to whip up by combining a simple pudding mix with spices and a sprinkle of cinnamon.
"I normally do not do a lot of cooking but every Thanksgiving I make this dish because it barely takes any time to make," Felder said. "I love the fluffy, light texture of this dessert. Taking a bite of it feels like I'm biting into a cloud, and its consistency makes me want to keep eating it."