Holiday spectacular brings festive spirit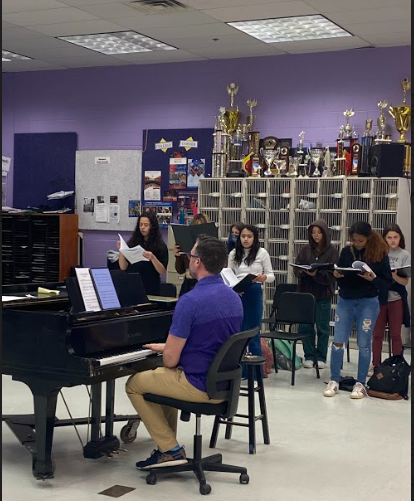 As the students prepared for the holiday spectacular, the sound of various instruments combined with the harmony of the choir echoed through the halls as the school day went by. The performing arts department joined together and worked to embody the holiday spirit in their performances.
Holiday Spectacular was held in the auditorium on  Dec. 7-9  at 7 p.m. The show was presented by the performing arts department, consisting  of show choir, orchestra, band and drama, which alternated their performances at each show. The drama students acted out stories that were coordinated with the songs that were played using gestures to convey the meaning of the story. 
With 75 orchestra students, 54 show choir students and 150 band students, there were a total of 279 students that participated in this show and approximately 75 backstage helpers.
"It is usually pretty calm backstage for the show choir but it can be hectic right before we go on stage,"  show choir junior Bill Huang said. "Our feet get pretty tired especially the girls' since they have to wear heels, but other than that we sit around while the other groups perform."
The teachers had to coordinate with each other to decide the songs that they would perform. They had multiple planning meetings throughout the weeks prior to the show to ensure that their students were on track for the performance.
"We're bringing back some of the pieces that we performed a while ago for the choir, band and orchestra,"show choir director Evan Ayars said. It is a two act show in which the choir has one act and the band and orchestra have a separate act. The teachers decide the songs and choir pieces from the previous years."
The students also performed a separate show that is tailored for a younger audience called Tiny Tots. This show took place during the school day on Thursday, Dec. 8, and the students missed some of their classes.
"I love seeing the twinkling eyes of the children as they recognize their favorite characters and melodies dressed in Christmas gear," orchestra senior Esther Park said. "Their reactions when Santa comes out is easily the best part of the show."
There were mandatory after school practices that were held on Monday and Tuesday until 7 p.m. Additionally, there were final practices in the evenings on Thursday and Friday before the public performances.
"The week of Holiday Spec is always super intense since there are multiple rehearsals for all departments," band senior Anu Daga said. "Although it can be chaotic, it's fun since I have the opportunity to spend more time with my friends."
The Holiday Spectacular show has been running for 25 years, and the last show took place at the same time in December 2021. 
"The show embodies the holiday spirit extremely well, creating lasting memories for both adults and children, hence the ongoing tradition," Park said. "As a performer, all I've heard from the audience members is how much they enjoy it and how they would like to come back."