Ornament memories brighten up the Christmas tree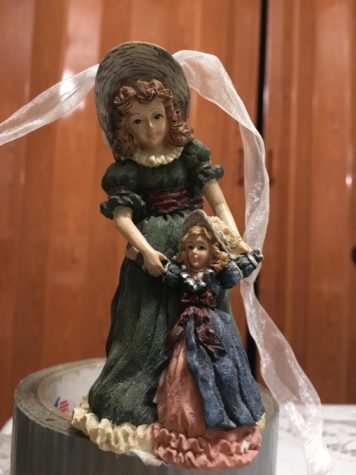 A Christmas tree sits in the middle of the living room, no ornaments to be seen. Soon, it'll be filled with memorable decorations adding some light and flair to the room. According to EF Academy, one of the most popular holiday traditions sought out by families is decorating a tree. Whether a family uses traditional ornaments and lights to decorate or quirky trinkets, every Christmas tree is unique. 
DIY Ornaments
Christmas traditions can include making customized Christmas ornaments in order to commemorate a newborn's first holiday season. Substitute librarian Claudia Johnston chose to do just that by buying her children special ornaments. The first Christmas of a baby can be a magical experience that families can cherish for years to come. As they become older, it could make for a keepsake that may remind the child of their childhood.  
 "I have the ornaments that I purchased when each of my children turned one, so it was like the baby's first Christmas," Johnston said. 
Another memorable ornament Johnston has is a replica of her son's toy train. It is a metal steam locomotive that reminded her of a core memory of his childhood that includes a small accident.
 "When my son was a toddler, he took the train off the tracks on the floor," Johnston said. "The metal was so sharp, it cut his finger open."
However, Johnston's favorite ornaments are three she hand crafted. She finds pleasure in spreading holiday cheer by making such decorations for loved ones. 
"The best ornaments I've ever made were crochet pine cones, they look really cool," Johnston said. "My favorites are probably the ones I made for myself and gifted to my family because of  the time and consideration it took to make them." 
Ethnic Ornaments
Every year for Christmas, sophomore Gisselle Moreno-Rosas's family hangs up a unique cultural ornament that reminds them of their home country, Peru.
 "It's been hard to visit [Peru] that often because of school, so that ornament acts like a connection to me and my country," Moreno-Rosas said. "It's a placeholder and a good reminder from where I came from." 
One of her dearest memories of this specific ornament has to do with a small accident, which, according to Moreno-Rosas, could have drained the holiday cheer. 
"There was a time I almost dropped it and almost got scolded for it," said Moreno-Rosas. "But it never happened again and now I laugh about it." 
Cultural ornaments can signify meaningful memories that hold value. These ornaments can also carry significance to one's ethnic background. 
 "My family and I are very proud of our country, so the ornament is extremely special to all of us," said Moreno-Rosas.
Generational Ornaments 
Sophomore Madelyn Fender had a precious ornament that's been passed down from her father's childhood. Ornaments from past generations can express former memories that showcase family traditions. 
"It always went towards the top of our Christmas tree," Fender said. "It was just like Santa's sleigh painted around the whole thing. I have two cats, and one year they climbed up on the Christmas tree and knocked the tree down and the ornament broke." 
The traditional ornament did not last, but all the memories it held stayed intact. 
 "It was kind of sad to see the ornament broken because it was my dad's from his childhood and it was his favorite ornament," Fender said. "It was like a special tradition for our family to put it on the top of the tree."
These are only some of the many ways people use ornaments to signify valuable moments. Other methods include getting new ornaments every year to celebrate important events that occurred. Buying ornaments from new places can also be a means of reminiscence. These decorations can all help define a special time in one's life. 
"I don't think it's necessarily important [to have a special ornament]," Johnston said. "I think it all depends on the family and what they think is unique to them, It's not so much the ornament itself, but the sentiment you connect it with something else to commemorate the holiday."