Skating through Winter
The winter season has officially started, with Christmas trees coming up throughout the day. To meet the growing demand of winter activities in this increasingly chilly weather, there are indoor and outdoor rinks in the area that offer public skating in the winter. Some ice rinks even offer winter sports and skating lessons.
Reston Town Center Ice Pavilion
The ice pavilion in Reston Town Center is a round rink with a roof and is open even when it rains. The pavilion opened on Nov. 12 and will close on March 12. Visitors can rent out ice skates and freestyle skating is 90 minutes long. It's recommended to sign up for free skating spots beforehand, with sign-ups on the Reston Town Center website. 
"I like to go to the ice rink with my friends in Reston Town Center because it's an outdoor rink with lights that give off a nice vibe," freshman Shreya Sreenivasa said. 
The ice pavilion is surrounded by different kinds of restaurants so visitors can have dinner or lunch before or after skating. In addition, the ice pavilion is surrounded with lights that are turned on at night. Visitors look upon the lights when taking pictures with family and friends. 
"There are some dessert spots right next to the ice rink to grab a quick snack," Sreenivasa said. "But people should keep in mind that there's always a long line to rent out skates." 
SkateQuest 
SkateQuest, an ice rink located in Reston, is open all year long. They rent out skates to visitors and visitors can sign up for group lessons, private lessons and camps. Sessions are 80 minutes long and on the SkateQuest website, visitors are encouraged to sign up for sessions in advance by selecting a time slot to skate. 
"I like to go skating with my friends at SkateQuest because it's nearby and it's open all year long,"  freshman Meghana Potla said. "Not only can you go in the winter, but visitors can go in the summer as well."
SkateQuest has a shop that sells materials for figure skating and hockey such as ice skates, hockey sticks and hockey jerseys. Thus, people interested in skating or hockey lessons can obtain necessary gear for their sport. In addition, they have a café so people can grab a quick snack with friends or family before or after their session. 
"I like to skate at SkateQuest because it's a nice facility and the people there are nice. I normally go by myself because I am a skater, but I see my friends come with their friends and family occasionally,"  freshman Hee Theng Chong said. 
Ashburn Ice House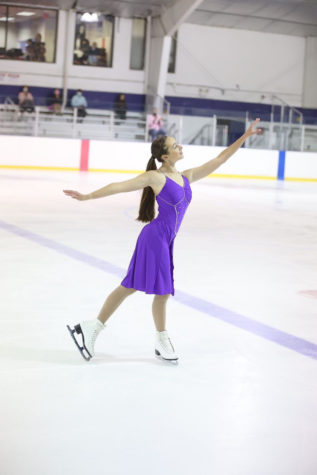 Winter sports teams practice at the Ashburn Ice House located in Ashburn including the region's synchronized skating and select hockey teams. Not only does the Ice House offer space for such activities, but it also offers public skating. Skaters must be pre-registered for public skating and visitors can register on the website. In addition, public skating is not offered all year long due to sport teams using the rink, so one should check the yearly schedule before arrival.
Like Skatequest, the Ashburn Ice House has a ProShop where visitors can purchase gear for their sport. The Ashburn Ice House also provides options for skating workshops and clinics for all ages.
"Most of my coaches are based there and it is where my synchronized skating team has practiced since I was in third grade," junior Anna Amoran said. "I also like that there is a gym upstairs where I go at least once a week; it's just super convenient to be able to skate and workout after upstairs. Also, the staff and coaches at Ashburn Ice House are so kind and welcoming and the environment there is always upbeat."