Breaking the ice: 4 ways couples can spend winter together
Irene Si, Editor-in-Chief
December 21, 2021
With chilly weather already here and even colder temperatures yet to come, some people stay warm by spending time with their loved ones and rekindling their relationships. 
Winter is often seen as one of the loveliest times of the year to experience with a partner. After all, the magic of the holidays and icy weather make for a great combination to further a relationship.
"Winter is the most romantic season for couples," senior Sarah Jung said. "It's a time where you can splurge [on] and spoil one another."
Here are four winter date ideas to try this upcoming season.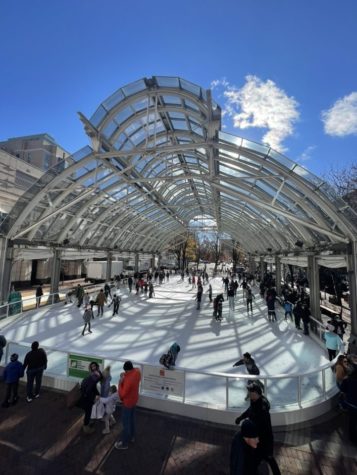 Go ice-skating
Despite the cold, couples can still do many outdoor activities together during the wintertime. For some, ice-skating is a popular option. 
"Ice-skating is a classic winter date idea," senior Alissa Nguyen said. "It has all of your cliché-couple stuff [like] holding hands. It's funny to see each other mess up and have cute accidents like falling over each other."
Come November, Reston Town Center (RTC) transforms into a wintry delight, with its ambiance and amenities suitable for couples. Until March 13, RTC's ice skating pavilion is open for use. Public ice skating is available every day, with extended hours for all holidays. 
"RTC is more COVID-friendly since it's outdoors, unlike some other ice rinks," Nguyen said. "They also have a Starbucks there and great food options, so after [my boyfriend and I] ice skate for a while, we can get drinks and get cozy."
See www.restontowncenter.com for more information.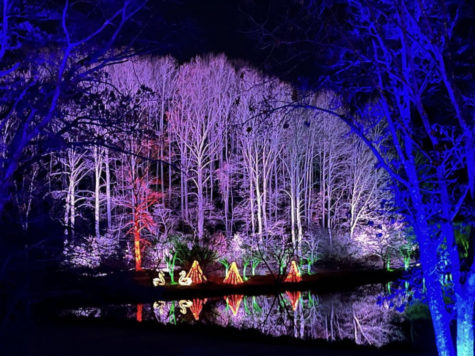 Brighten dates with Christmas lights
Viewing light displays is a popular way to celebrate the holidays; couples can consider partaking in this activity together. For those who'd like to stay warm and comfy, the Bull Run Festival of Lights in Centreville allows attendees to bask in two miles of light displays from the comfort of their own car. One ticket for a vehicle starts at $30. Couples who like the outdoors and prefer walking should also look into the Winter Walk of Lights at Meadowlark Botanical Gardens in Vienna. The Winter Walk is a half-mile, one-way route, making it a leisurely evening activity. Onsite tickets start at $20, while online tickets start at $16. 
In Alexandria, one of NOVA Parks' newest winter attractions, Ice & Lights: The Winter Village at Cameron Run Park, offers an immersive winter wonderland experience. Ice & Lights features an ice-skating rink, light displays, photo ops, food and attractions such as an interactive orb field, tunnel arch, a walk-thru tree and more. Village admission costs $9.19; additional skating makes tickets $22.03 per person. 
More details about these events are available on the www.novaparks.com website.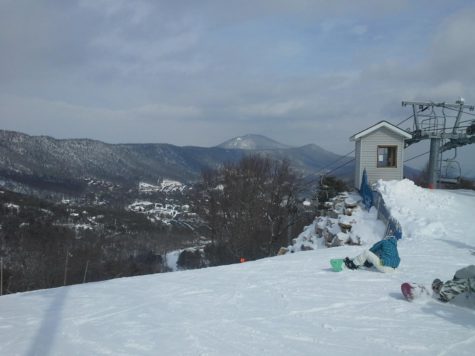 Seize the slopes together
Couples can also go on a winter adventure together; those who love to stay active could go skiing or snowboarding together. Virginia is home to a few ski resorts, such as Wintergreen and Massanutten Resort. 
"Although I'm more of a snowboarder and my partner is a skier, it would be fun to switch," Nguyen said. "After a day on the slopes, grabbing hot drinks while taking in the view and resting together is very romantic." 
Ski trips can be overnight, or last just one day. At Wintergreen, lift tickets, including the cost of rentals, start at $123 for adults, but vary depending on peak times, session length and the time of session. 
Those who worry about the cost of going on a ski or snowboard trip can consider going somewhere less far off. When it comes to organizing a trip, extensive details and planning are not always a must. A trip is not necessarily successful based on how much money was spent or how eventful it was. To senior Kiera Smith, time is the most important factor. 
"We can go to a lot of different places now because we can drive, so where we go depends on how much time we have," Smith said. "If we have more time, we'll go somewhere farther. If not, we'll just go to Giant or something. [The trip] can be very casual."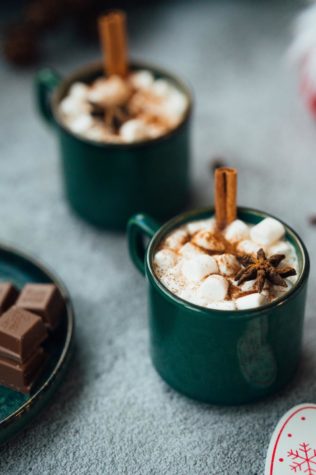 Hangout at home
As the saying goes, "there's no place like home for the holidays." Jung and her boyfriend like to spend time with each other within the comfort of their own walls.
"One thing [my boyfriend and I] want to do this winter is go to each other's houses, watch holiday movies like 'Elf' and bake cookies," Jung said.
With the time off from school, couples can also get to know each other better by getting involved with the other's hobbies. 
"We try to base [our dates] off of our interests," Jung said. "I love baking, so we want to incorporate that [into our dates]. We get through different TV shows based on what we both like. Our dates are often very relaxed."
The most important things to celebrate this holiday season are friends and family—giving gifts is one way to warm their hearts. 
"Even though it is pretty stressful trying to get gifts together, I'm most excited about doing gift exchanges," Jung said. "I love the whole process of giving a gift, planning out what you're going to get them and having this 'eureka' moment of knowing what to get someone. [Gifts are] a way to show your appreciation and love for others."