Fandoms, hobbies create connections within school community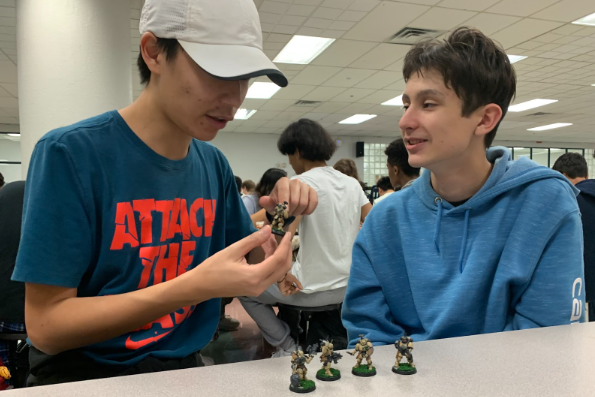 Right now, students are living in an age of social disconnect according to Psychology Today, and Generation Z has set the record for the loneliest generation yet, with 73% of Gen Z reporting loneliness on a regular basis. Face-to-face interactions are becoming increasingly uncommon.
"I definitely see less people my age willing to start conversations," freshman Sammy Lim said. "I think it's because of technology. People have less reasons to interact in person, which makes in-person interactions, especially with new people, feel more unfamiliar and uncomfortable."
The school community includes students of various backgrounds and interests, and to find deeper connections, students can turn to any of the over 90 active clubs at CHS, which can all be found listed on the CHS Student Organizations site accessible through students' grade level Schoology page. Clubs provide students with spaces where members share appreciation and knowledge of a certain topic.
"Fandoms and hobbies give even more introverted people, such as myself, places and opportunities to talk," Lim said. "They connect people through conventions and stores, and they generally just provide ways to start conversations." 
One student group that builds community through a shared hobby is Dungeons & Dragons (D&D) club. Invented in 1974, and enjoying decades of popularity since, D&D is a tabletop roleplaying game where interactions with others is vital to the game's mechanics. Players create their own characters, and work together with the created characters of other players as they embark on journeys, known as campaigns, set in fictional worlds. In addition to D&D, the club also hosts games of "Warhammer 40,000", which is another tabletop roleplaying game. 
"People feel more safe to interact with each other when they share a familiarity with a certain topic, but in groups that bond over an interest, it goes beyond just that," D&D Club officer Aaditya Khurana said.  "It's not like a science class, where even though the students are all together, it isn't guaranteed that they are all enthusiastic about science."
K-pop Club, a fan community dedicated to pop music artists from South Korea, is another group that creates new bonds between students passionate about a shared interest. In the club, students discuss and listen to their favorite K-pop groups, enjoying music videos and K-pop performance competitions.   
"Going into K-pop Club, some people are already friends, but I've definitely seen new connections made when people are fans of the same group," physics teacher and K-pop Club sponsor Tanner DeCrapio said. "People will be like, 'oh, you like that group too?' That sparks a conversation that leads to them interacting more in the future. The club really engages people socially and, during meetings, I hardly see anybody with their phones out."
The popularity of K-pop in the United States is a more recent development than the decades-spanning popularity of D&D, with the genre coming to prominence in the 2010s according to Rolling Stone, but the existence of K-pop fan communities shows that with any interest, no matter how new or old, people can find ways to connect. Other clubs centered around specific hobbies and fan communities include Anime Club, Chess Club and Origami Club.
"Communities centered around shared interests are definitely something on the rise, and people have been participating in these types of communities for a long time," Khurana said. "In the past, the things people typically bonded over were much more generalized and mainstream, but more and more smaller niche communities are now forming as more people want to have spaces where they can feel like they belong."