Winter comfort foods warm stomachs
Warmth rushes through the air as customers walk around with aromas of foods wafting from their trays. Many people seek eateries that offer foods that feel toasty and cozy, especially in the winter. Here are some restaurant food options recommended by students that are perfect for the chilly weather. 
Chick-Fil-A's Classic Mac and Cheese
The fork lifts, as golden cheese is pulled out of a steamy cup. The Chick-Fil-A version of Mac and cheese, made with baked blend of cheddar, romano and parmesan, is served for lunch and dinner and can be a side, main entree or part of a kids meal.
Mac and cheese plays a consistent role in meals, especially during winter holidays. It appears in Thanksgiving and Christmas dinners and can found as a staple in homes 
"My go-to order at Chick-fil-A is definitely their mac and cheese because it's soothing," senior Kaavya Karthikeyan said. "It is one of the only vegetarian options on their menu and one of my favorite foods overall." 
Their mac and cheese has some extra-baked, crispy cheese pieces, while the rest is a smooth, sharp-cheddar flavored elbow pasta. Both aspects work well together to create a warm and fulfilling meal, often paired with a chicken sandwich or a side of waffle fries. Some other hot foods offered that would be perfect for the winter from Chick-fil-a are the chicken noodle and chicken tortilla soup. 
"Sometimes the mac and cheese is served hot, and when it is, the cheese just melts in my mouth," Kaarthikeyan said.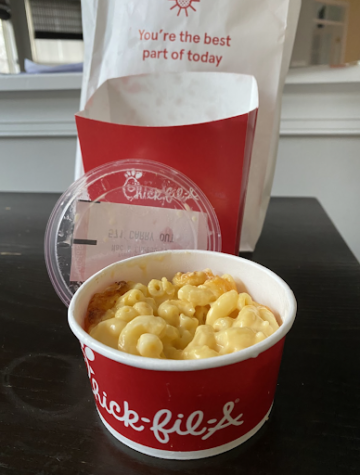 Panera's Citrusy Tomato Soup
On a cold winter day, drinking a hot bowl of soup is beneficial in several ways. Soup can help supply the body with minerals, it contains high amounts of fiber and helps the body stay hydrated through the day, reports Healthline. 
Since soup holds so many advantages, Panera offers several options. However one favorite is the tomato soup. A warm, hearty ladle of bright red soup is poured into a bowl and topped off with black pepper focaccia croutons. The soup is a combination of vine-ripened pear tomatoes pureed with fresh cream to create a rich, velvety flavor. To season, Panera adds in hints of red pepper and oregano to bring out the tomato's citrusy flavor. 
Tomatoes in any form are also often used as a way to prevent cold symptoms, which are especially common in the winter.
"At Panera, I go with the 'you pick 2', which is where you get to pick half of two things," junior Shawn Mathias said. "So I pick grilled cheese and tomato soup, and I love dipping the grilled cheese into the soup. The flavors work together well."
When the grilled cheese is dipped into the soup, the cheesiness and crispiness creates a delicious balance of both tangy and salty. Apart from the tomato soup at Panera, there are four other soups: vegetable autumn squash, broccoli cheddar, homestyle chicken noodle, and cream of chicken and wild rice soup. 
"Although there are so many other options on the menu, the tomato soup is my choice because it isn't too heavy and has a rich tomato flavor," Mathias said.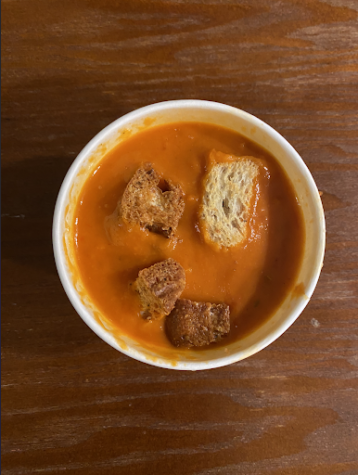 Cinnabon's Gooey Center of the Roll
In addition to the classic cinnamon roll, Cinnabon released an item called the Center of the Roll. It's exactly what it sounds like: the center of a cinnamon roll. For those who don't prefer the crispier edges and would rather eat the moist insides, this is the perfect treat. The middle is the softest and also collects the most icing on it compared to the classic roll, which is why customers lean towards the Center of the Roll.
"Whenever I'm at the mall, my go-to snack is Cinnabon because it makes me feel warm inside, especially since it's really cold outside," senior Sreyas Kode said. 
The warm spices of the rolled cinnamon dough, topped with a simple but sweet confectioners' icing, creates a balanced dessert, especially when warmed up. In addition to the classic flavored Center of the Roll, Cinnabon also offers another one of their flavors, Caramel Pecanbon. This flavor adds more toppings to the classic one: a thick caramel frosting glaze and some pecans for a crunchy bite and a nutty flavor.