Fast food menu items become more versatile
Many avoid fast food restaurants, as they are generally stereotyped as unhealthy. However, almost every fast food menu holds some form of a healthy alternative; some examples are on Healthline. Here are three healthy alternatives recommended by students.
Chick-fil-A's Spicy Southwest Salad
This colorful salad begins with a healthy blend of greens, including spinach and lettuce. A mix of shredded monterey jack, cheddar cheese and grape tomatoes are sprinkled on top for a contrasting texture. For more veggies, roasted corn and red bell peppers are incorporated throughout. Lastly black beans and cold, spicy, grilled chicken are laid on top for more protein.
"The Spicy Southwest Chick-fil-A salad is one of my favorite fast-food salads," junior Namya Kohli said. "It's the perfect meal after a workout and it's really refreshing." 
Compared to the Original Chicken Sandwich, this salad replaces the carbohydrates in the bread with greens that are rich in fiber and vitamins and have fewer calories. Additionally, the breading of the fried filet in the sandwich holds saturated fats while grilled chicken is low in fat and calories. 
Customers may have different preferences of the protein in the salad, so the chicken can be switched out with a warm or fried filet, chicken strips or no chicken at all. There is a range of six different salad dressings for all salads offered, which can change the healthiness of the meal. 
"I usually just get [the salad] with the default grilled spicy chicken, and I usually get it with the Light Balsamic Vinaigrette dressing," Kohli said. "But my favorite part about the salad is definitely the tortilla strips because they add texture." 
Panera Bread's Mediterranean Veggie Sandwich
Between two slices of toasted tomato basil bread spread with jalapeno hummus, lay a spring mix of arugula and kale, tomatoes, red onions and cucumbers. For some flavor twists, sharp feta is crumbled into the sandwich with sliced peppadew peppers to tie it all together. Each component brings a different flavor to the meal. Since all aspects of this sandwich are fresh, the trans and saturated fats are very low. This meal is also balanced as the protein in this meal comes from the hummus, while the dairy comes from the feta and the carbs come from the basil bread. 
"I love the Mediterranean sandwich from Panera," junior Rachel Jeong said. "It's a complete meal but also light and flavorful."
Not only is this sandwich perfect for the summer as it's served cold, but can also be enjoyed by many as it is a vegetarian option. Meals also come with a beverage, and to keep it healthy, Panera offers five kinds of smoothies and five iced teas and lemonades.
"I usually get the half and half, so I get half the veggie sandwich and pair it with their mac-and-cheese," Jeong said. "I also really like mixing the Agave Lemonade and Passion Papaya Green Tea because it's the perfect balance between sweet and sour."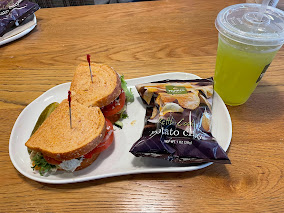 Sweet Frog's Acai Berry Sorbet
In addition to a plethora of frozen yogurt flavors, Sweet Frog now sells a new fruit-based flavor. Acai Berry Sorbet is meant to replicate an acai bowl smoothie base. The acai berries make it a healthy alternative to a frozen yogurt option because they are antioxidants, high in fat and low in sugar. The sorbet also has a rich chocolate flavor to balance out the fruity taste.
"I tried an acai bowl for fun one day [at Sweet Frog], and I actually really liked it," senior Sheona Jerin said. "It feels like you're eating frozen yogurt except it's healthier."
This acai sorbet is the base of four acai bowls being sold: the Caramel Apple Crunch, Aloha Tropical, Slice of Life and Chocolate Berry. All four bowls can be customized at the topping bar, so customers can change their bowl to their own preference.
"My favorite flavor of the acai bowls is the Aloha Tropical one because of the coconut flakes," Jerin said. "It adds texture and sweetness to the bitterness of the acai."