As Fairfax County develops, residents face a more urbanized future
Previously home to a beat-up movie theater, sprawling parking lots and empty warehouses, the Mosaic District has emerged since its opening in 2012 as a bustling center for housing, shopping, dining and entertainment in Fairfax County. The 2 million square foot mixed-use development is an example of how a more urbanized Fairfax County might look as the population continues to grow.
"I ultimately would like to side with urbanization if it defines the movement of bringing the population closer together and not as an excuse to ruin or exclude the livelihood of others," junior Barsha Parajuli said. "Because ultimately it will foster a community for the people [and] increase social mobility, along with providing more of an equal access to a city's resources and jobs."
In many places around Fairfax County, high rise buildings are springing up and construction teams are busy with new projects. Recent construction around the county includes the 12-story high rise apartment building at Fairfax Corner, the nearby 8-story parking garage and transit center, the massive construction projects at Tyson's and the expansion of Reston Town Center. 
The many projects around the county are the result of huge increases in population over the past several decades, and the growing importance of the county as a job center. With almost 1.4 million people, Fairfax County is by far the largest county by population in the Commonwealth of Virginia, with more than double the number of people as the second largest county, Prince William County. 
Fairfax County is also one of the fastest growing places in the United States by population and is expected to become the second largest employment center in the Washington, D.C. area by 2030. One issue county planners face in light of this growth is how to decrease reliance on single-occupancy vehicles.
"Fairfax County was, until about 1950, a very rural county," Fairfax County smart growth advocate and transportation chair for the Virginia Sierra Club Douglas Stewart said. "It was mostly farms and then it quickly developed in a way that was completely centered on driving and communities that develop that way tend to put themselves in a box where they consume lots of land and the only way to get to places is by driving."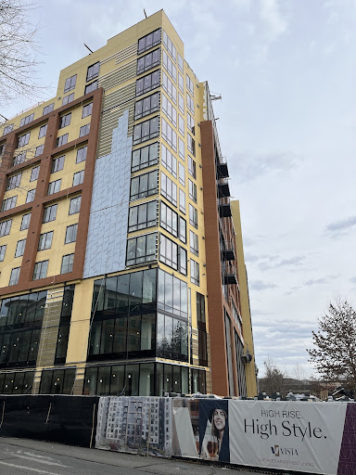 In order to address concerns about traffic, the county has been the site of several major transportation projects in recent years such as the "multi-modal mega project" to construct high-occupancy/toll (HOT) lanes on Interstate-66 and the extension of the Metro Silver Line from Reston Town Center through Dulles Airport to Ashburn in Loudoun County, which opened on Nov. 15. In addition, Fairfax County has begun to repave streets to add in new bike lanes to encourage biking among residents.
Despite the county's effort to manage the growth in a sustainable way, the concept of a more urbanized Fairfax County is concerning to some. The lack of available land and affordability are leading to the construction of more high density housing as opposed to the detached single family homes that previously dominated the county. Growth has led to worries about an increase in traffic and questions as to how Fairfax County can develop in a way that preserves residents' quality of life.
"It's always hard to get people to support new development," Stewart said. "People are much more likely to reflexively oppose that because they fear change." 
Those who are concerned about how future developments will impact Fairfax County have several ways to get involved.
"I think the best way for people to learn about what we are doing is to go to our website," branch chief with the Fairfax County Department of Planning and Development Kelly Atkinson said. "We also have various listservs you can sign up for that make you aware of major planning initiatives such as Comprehensive Plan Amendments and Zoning Ordinance Amendments:  https://www.fairfaxcounty.gov/mailinglist/".