Accessibility features support ESOL students, those with disabilities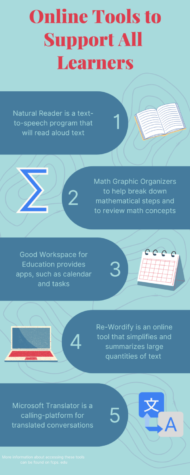 In the past few years, FCPS has launched a plethora of resources to benefit diverse communities, such as students who have learning disabilities and students who have trouble speaking and comprehending English. 
Launched on Jan. 18, the county has implemented the new text-to-speech feature on almost every FCPS website. This resource reads web pages aloud and provides English, Spanish and Korean translations, supporting FCPS' largest non-English speaking populations and those with disabilities. Specifically, the feature will assist students in the English Speakers of Other Languages (ESOL) peer tutoring club at school. 
"The voice translation feature helps students at the school and is also helping the parents that may be unfamiliar with the English language," junior and club vice president Joshua Jocuns said. "There is another layer of visibility across linguist barriers for many people in our Chantilly community."
The new text-to-speech feature expands on the previous translation platforms FCPS provided. Previously, there was a machine translation using Google Translate, which wasn't context sensitive. In other words, the resource didn't provide a correct translation depending on changing circumstances. Additionally, students had to launch BrowseAloud, a browser plug-in, to listen to web pages. Text-to-speech addresses this issue through clearer and accurate interpretations, according to FCPS.
"The advancement to the previous translation feature made it easier to capture the intended meaning," Jocuns said. "It is particularly important to our school because we have a large student population that is part of the ESOL program." 
In addition to resources online, FCPS provides assistance with physical resources. The Accessible Instructional Materials,for example, include textbooks and trade books converted into alternative formats such as large print and audio recordings. 
"Technology is one of the must-have tools for the students with special needs, but physical learning materials are not replaceable in my opinion," learning disabilities teacher Betty Ablimit said. "For those students with visual impairments or students who have difficulties with small prints, having textbooks converted into large print will be extremely helpful."
To help students with physical impairments, the Assistive Technology Services (ATS) collaborate with school teams and work to create and manage resources to ensure students with disabilities have all the assistive tools necessary to succeed. 
"I love that we get the chance to level the playing field for those who may need a little extra support," ATS program manager Jeff Sisk said. "Anything we can do to increase their involvement in the classroom is by far the most rewarding part of the job." 
Another program that ATS has incorporated into FCPS websites includes Read&Write, which provides a line reader for those with dyslexia and the embedded Screen Mask that zooms in on a certain area of the screen to aid students who have trouble focusing. 
"Our goal is to accommodate individuals the best we can, and the feature promotes general literacy for students, allowing them to comprehend material to participate in advanced classes," Sisk said. 
The school district also provides technology tools to support all learners. For instance, they offer keyboarding resources, such as Doorway Online to learn typing through games, and organization platforms like Project-Based Learning Checklist Creator to meet class guidelines.
"Chantilly High School not only has so much diversity, but also has one of the largest special education departments in the country," Ablimit said. "It is important that students at the school have access to resources that meet each of their needs."