Gen Z puts the brakes on driving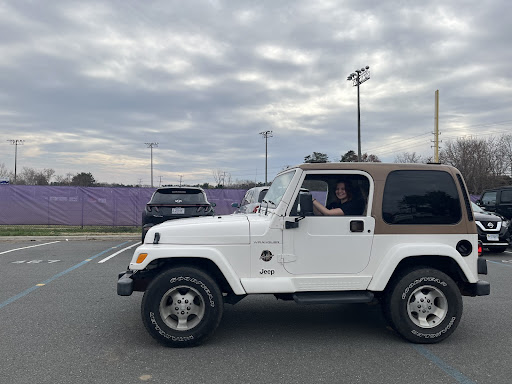 Getting a driver's license has long been a rite of passage for teens. However, according to recent surveys by the Federal Highway Administration, more and more Gen Z teens are delaying or forgoing the driving experience.
"Teens aren't as motivated as they have been in the past," Driver's Education instructor Kurt Sporkmann said. "They take the class because it's a part of Health and P.E.10, and they know that they have to do well from a grade standpoint, but their motivation isn't to get their license. Years ago, when they would come to class they would be much more enthusiastic and engaged in the material."
In 2020, only 25% of 16-year olds had a driver's license versus 46% in 1983. The downward trend is also apparent in older teens with 58% of 18-year olds holding a driver's license in 2020, compared with 80% in 1983.
For many teens, getting a license is a daunting and anxiety-inducing task. Driving a car in busy Northern Virginia traffic can be challenging and recent statistics show it can be dangerous; the number of teen fatalities from driving in Virginia increased by 55.6% from 2020 to 2021. Closer to home, in a high-profile fatal accident on June 7, 2022, an 18-year-old Oakton High School student who graduated just four days prior killed two Oakton High School students walking home from school in a high-speed crash.
"Personally, all of my friends have agreed with my argument of being scared of the road," junior Anusha Kuruganty said. "It just puts that pressure on me like 'oh my god, I'm going to be responsible for everything I'm going to be doing.' I think that's the reason why a lot of my friends also get scared."
With the world becoming increasingly more digitized, teens today have more alternatives to driving such as calling an Uber or Lyft to get them places. In addition, students can hold social gatherings virtually on Zoom or Discord, and activities like gaming and streaming can be done online and at home. According to Pew Research Center, 59% of all teens video chat with their friends and 75% of all teens spend time with friends playing video games online.
In addition, the process to get a driver's license can be time-consuming, requiring teens to pass an initial permit test, record at least 45 hours on their driving log, and complete a two-week behind-the-wheel course.
"There are more pieces to the licensing process then there were back then but there's less required, such as parallel parking, in order for the students to ultimately get their licenses," Sporkman said. "They've kind of minimized some things going along with the behind-the-wheel class and what's expected."
There are other reasons that could account for teens' lack of motivation when it comes to getting their license. Namely, owning and operating vehicles is expensive: the average cost of adding a 16- to 19-year-old to car insurance is $3,798 per month. In addition, fewer teens are working today compared with past generations. In 1979, almost 60% of teens had jobs; by 2011 that number had dropped to 34.1% and has not changed much since then. Because teens aren't working as much, they have less money for gas and other car expenses and, which in turn, causes a decrease in the demand for driving.
"Only three of my close friends drive, so no, most of them don't drive," junior Siddhi Surawkar said. "The major reason I've heard is because their parents don't want to pay for very expensive driver's insurance; another reason is because they have friends or family who can drive them."
Gen Z's relative disinterest in driving may be a sign of a different approach to the teenage experience. University of Virginia Pediatric psychologist Haley Stephens notes that Gen Z is less in a hurry to hit many milestones than previous generations. Despite popular shows such as "Euphoria," statistics show that teens today are also less likely to engage in risky behaviors compared with previous generations. According to the CDC, the percentage of teens who are sexually active is the lowest since the early 1990s. The percentage of 8th, 10th and 12th graders reporting that they use alcohol dropped from 80% in 1991 to 36% in 2021. In addition, Gen Z also reports the lowest rates of illicit drug use on record since the 1990s. 
"We have seen a definite decline in the drinking and driving amongst teens and I think a lot of it is a combination of the education process that we've gone through over the last 25 years and the focus on other distractions for teens which would encompass technology and interacting socially," Sporkmann said.