Behind the Lens: Meet Chantilly's student photographers
Jaebin Cha
While visiting Seoul, South Korea, in May 2014, senior Jaebin Cha noticed a man taking photos of an ordinary street. Cha was fascinated by the foreigner and why he wanted to take a photo of a market street. When he became interested in photography, Cha noticed that although the street had originally looked like a normal street to him, to the photographer it was something more artistic. Cha was inspired to become a photographer because he wanted to take photos of normal things in a unique way to capture the moment.
When Cha prepares to take a photo, he identifies the purpose of the shot, sets up the shot and takes the photo. Cha edits his photos using different techniques.
"I edit photos until they look good to me," Cha said. "Hopefully others will enjoy."
Although Cha takes photos at multiple sporting and school events, he enjoys taking portraits of his friends when they are hanging out together.
"They are a part of my life, and that makes me happy," Cha said. "I am recording my memories through pictures of them."
Through his experience of taking photos for yearbook and his own purpose, Cha has gained his own personal style.
"I think that my photography is unique because of the perspective and feel," Cha said. "My photos aren't snap-shoot type photos. I put meanings and emphasis on it."
Cha plans on continuing his passion for photography throughout his life.
"My ultimate goal is to travel around the world to photograph the beautiful views every place has," Cha said.
Jenni Freret
For seven years, senior Jenni Freret has been taking photos of a variety of events. Through her own photography business, she takes photos of sport games, weddings and newborn portraits.
"When I was younger, I was a very shy kid and didn't have many friends, so I was drawn to music and art. I have never been able to draw, and I gave up on my music career in eighth grade, so when I began high school, I took a leap of faith and took my first photography class," Freret said. "I am very lucky to have found my talent and passion so early in life because it has taught me so much about myself, opened my eyes to many interesting things in the world around me and allowed me to connect with amazing people."
When Freret first started taking photos, she did not know a lot about cameras. She started off by using only the automatic settings, but after her first big event, a wedding, her sophomore year, she taught herself how to control settings manually.
"I've been told that I am a perfectionist," Freret said. "I tend to spend at least a couple hours on a batch of pictures to emphasize the details I had in mind when I took them. Those pictures go on my social media and get shared on other people's profiles and pages."
Freret does not have a favorite event to photograph because she feels every photo tells a story and considers all the events she photographs special. One of her favorite quote is "We take photos as a return ticket to a moment otherwise gone," which perfectly summarizes what her photography is about.
"All of my pictures embody a time and place I experienced that can never be recreated," Freret said.
Freret feels each photographer and photograph is different.
"You can have 10 different people looking at the same thing at the same time but each interpretation will be completely different," Freret said. "With photography, there's no right or wrong about a person's point of view, and I get to show everyone mine in the most creative way I can."
Navin Hajibegli
Senior Navin Hajibegli found his passion for capturing the moment and having it stay there forever when he joined the yearbook staff.
"I really like the aspect of being a part of something that will be in people's homes for a really long time," Hajibegli said. "Forty years from now, [people] are going to be looking at photos from high school and reminiscing on memories that they made."
Hajibegli has been on the yearbook staff for two years. He truly started focusing on his passion this past summer when he attended the Gettysburg Yearbook Experience.
"The kids there were super good at taking photos because they had flashes, extensions and triggers," Hajibegli said. "I just walked in with a camera, and I got better and better."
At the camp, Hajibegli learned how to take high quality photos and even received an intensive digital photography award.
"With this award in mind, I thought, 'Picture taking isn't so difficult once you get the hang of it and keep practicing, just like anything," so I kept taking photos," Hajibegli said.
He has received numerous compliments and loves the feeling when someone posts his pictures on social media.
"No two people can have the same photo because of different angles, cameras and [equipment]," he said. "Even the the slightest change in angle can change a photo."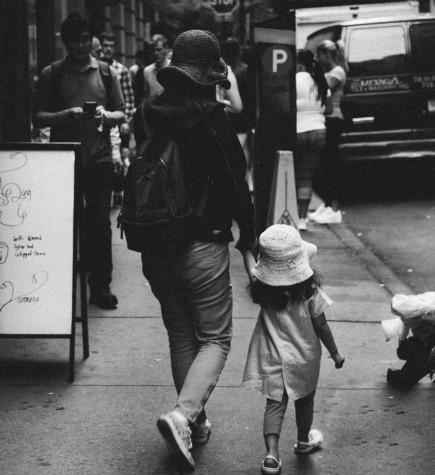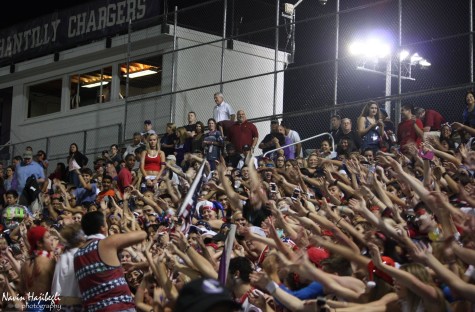 Leave a Comment
Donate to The Purple Tide
Your donation will support the student journalists of Chantilly High School. Your contribution will allow us to cover our printing and annual website hosting costs.