Rise in hate crimes causes concern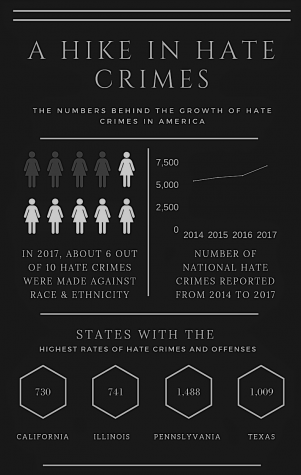 El Paso, a western Texas city that is 80% Hispanic, recently suffered from a mass shooting at a Walmart shopping center that took 22 lives and injured 24 others, according to the Wall Street Journal. The shooter, a white nationalist, posted a racist, anti-immigrant manifesto on the internet and opened fire in response to the recent influx of Hispanic immigrants in Texas. This is only one example of the violent hate crimes that have received widespread media coverage in recent years. 
In 2017, 7,175 hate crimes marked a 17% inflation from the previous year, according to the Department of Justice; 2017 denotes the third consecutive year in which hate crimes grew in disturbing numbers. The Washington Post stated in 2018, 205 hate crimes occurred in Washington, D.C. alone, associating the district with the highest per capita hate crime rate of any major city in the U.S. It is no secret that hate crimes are a problem- and sources such as the Washington Post say it's only getting worse. 
Hate crimes are offenses committed with a bias against people of a certain race, gender, sexuality or even political stance. According to the Department of Justice, biases against ethnicity and race were the most common motivators in 2017, making up 58.1% of all hate crimes that year. 
The FBI asserts that hate crimes are its highest priority and has proposed plans to better train law enforcement officers and improve methods of identifying and reporting these incidents.
Hate crimes are not only a pressing issue in America's largest cities; acts of hate-fueled violence have occurred in Fairfax County as well. 
"Five years ago, when I wasn't here but working on patrol, people would say malicious things to others and commit a crime after that," School Resource Officer Aaron Jefferson said. 
According to NBC Washington, KKK recruitment flyers on driveways and spray-painted swastikas on the walls of the Jewish Community Center have appeared in the area; in 2017, Fairfax County saw a 50% growth in reported hate crimes. 
The increase in hate crimes is widespread enough to reach further than adults; high school students also recognize the issue. 
"They've become so normalized that some don't even get onto the news, which shows that these things are going unresolved and are not getting any better," sophomore Mahima Suresh said.
The motivating factor behind the increase in hate crimes still remains a mystery to the public. However, some blame the current political administration and believe there is a lack of support in combating hate crimes. 
"Hate crimes are happening a lot more today because of our political leaders and their lax rulings and attitudes on those who commit hate crimes," Suresh said. "Trump is a definite instigator in the increased level of hate crimes in the U.S because of his implications that hate is alright."
According to U.S. News, some extremism experts agree with Suresh's opinion, suggesting that hate crimes may have a direct link to controversial language from the country's politicians. Brian Levin, the head of the Center for the Study of Hate and Extremism, states that while external factors influence the rise of hate crimes, there is a firm correlation between statements made by political leaders and fluctuations in the numbers of hate crimes. 
Although few in the Chantilly area have faced hate-fueled offenses or incidents, many have strong opinions and ideas on how the government should stop these crimes and how students can prevent them in the community. 
"I think the government should create programs that promote healthy relationships between people and really bring people together regardless of their beliefs, religions or anything else," freshman Anushka Chivaluri said.
Suresh advocates for students to take an initiative to stop any acts of discrimination in the school. 
"Students can stop being bystanders. Tell people to stop if you hear them being indecent," Suresh said. "We are blessed to live in such a connected place where we get so much info and opportunities to speak and hear others speak out."
Officer Jefferson takes a similar stance and encourages students to reduce hate by promoting positive relationships and community involvement. 
"Report them; watch people's websites and what they post online. I wish students would be more interactive with each other," Jefferson said. "I wish people would take out the earbuds once in a while and just talk to each other."