Girls volleyball begins the season with a victory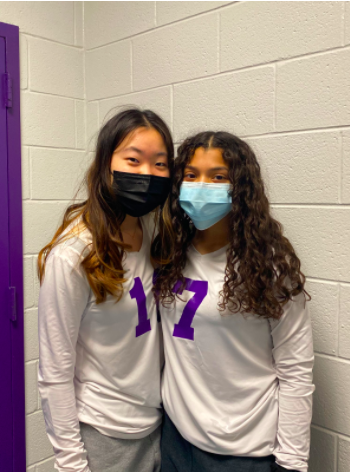 The girls varsity volleyball has been practicing and polishing their skills as excitement buzzes through the air. However, this season will not be the same.
"The pandemic has taken away our big audiences, sadly," sophomore and JV volleyball player Isabell Lee said. "All the people watching our games always have boosts of adrenaline and play a big part in bringing the energy up, so we're going to have to work extra hard to do that." 
With last year's season cut short, students have spent the past year practicing and preparing for tryouts by participating in club volleyball and working out either at home or at a gym. Lee spends some time at Cassels playing with others during free gym. 
"Volleyball really requires a well rounded athlete who has agility, strength and endurance," senior and varsity volleyball player Adriana Barrera said. "I spent the off season doing a lot of lifting and running to better those aspects of my game."
Tryouts were held on Feb 15, 16, 17.. At tryouts, every volleyball skill was tested from bumping to playing as a team. It was a four day process and the last day was designated to cutting girls out and placing them in either varsity, JV or freshman team. 
"It's pretty nerve-wracking at tryouts," sophomore and JV volleyball player Emily Cortez said. "Everyone is trying their hardest to get a spot on whichever team they deserve, so it's also kind of overwhelming."
The JV and varsity team began practicing on Feb. 22. for their first game in a win against Centreville on March 1. Each player contributes different skills to the team by training individually and as a team. 
"During practices, we start by warming up and ball control," Barrera said. "Then move into skill oriented drills such as serving and passing. At the end we play competitive games or a scrimmage."
Cortez plays her part as an outside hitter/defensive specialist while Lee plays an outsider hitter, middle blocker and helps with back row defense. As an outside hitter, Cortez hits sets to the outside, helps the middle block and helps with defense backrow. As a middle blocker, Lee does blocking on the net and hits various different kinds of middle sets.
"I got into working out a lot more for speed and my vertical jump, and when I wasn't working out, my mom and I would do some drills at home," Cortez said.
While being on the team allows for competition with other schools and improvement on skills, building friendships with teammates is very important to Barrera.
"I'm excited about getting to play volleyball with some of my best friends," Barrera said. "We have returners, promising newcomers and we all get along really well; I think we are in for a great season."