A New Future for Virginia Politics: Virginia governor's election approaches, students get involved
With a neck-and-neck race between Democrat candidate Terry McAuliffe and Republican candidate Glenn Youngkin, Virginians are anticipating the results of the 2021 governor's election. The election is commonly characterized as an extension of the 2020 U.S. presidential election, as the tension between the candidates nearly mirrors that of former President Donald Trump and President Joe Biden. 
AP News reports that McAuliffe attacked Youngkin by calling him a "Trump wannabe;" in response, Youngkin slammed McAuliffe as a "tired politician" with "old recycled policies." The competition between McAullife and Youngkin will test the strength of the parties since Biden's win for presidency, and the results are expected to heavily influence the 2022 midterm elections, according to Ballotpedia.
For the last two years, Virginia has held a Democratic trifecta status; the Democratic Party took control of the Virginia Senate, House of Delegates and the office of governor as a result of the 2019 state legislative elections. When a state government trifecta is established, the party in power has better chances of promoting legislation that aligns with its agenda. According to Ballotpedia, from 1992 to 2021, Virginia had four years of a Republican trifecta, and four years of a Democratic trifecta. A win by McAuliffe would preserve Virginia's current Democratic trifecta status. 
On Tuesday, Nov. 2, Virginia will hold its gubernatorial election to determine the next governor after the incumbent Democratic Gov. Ralph Northam. Northam will not be allowed to run in this year's election due to Virginia law, which bars officeholders from serving consecutive terms.
"I [have been] paying attention to significant happenings in the governor's election, like the recent debates and public statements on certain issues," senior Mrudula Rapaka said. 
Terry McAuliffe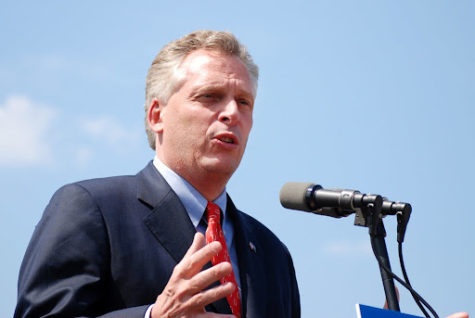 McAuliffe is running for a second term after serving as the governor of Virginia from 2014 to 2018. He emphasizes his lengthy experience in politics, including his time as Chairman of the Democratic National Committee from 2001 to 2005. According to his website, McAuliffe intends to continue to use his platform to create jobs, make healthcare more affordable and invest more in education. During his time as governor, McAuliffe created 200,000 jobs, drove unemployment down and raised personal income over 13%.
"Virginia is a state with a lot of small businesses and [McAuliffe] is not extreme—he's not a socialist—but he also understands the importance of economic equality and making sure that lower income communities are served," junior Brian Ng said. "When he was governor, Loudon county went from a very rural area to a booming business area, so he really is somebody who is good for business in Virginia."
However, McAuliffe's history of alleged corruption poses a concern for voters. According to Democracy Now!, in 2009, McAuliffe was accused of bribing Independent politician Ralph Nader to drop out of 19 battleground states in the 2004 presidential election. Later on in 2013, McAuliffe was investigated by the FBI due to suspicions regarding campaign and personal finances, but the results were inconclusive. 
McAuliffe also supports marriage equality and women's rights, such as the right to abortion. As part of his vision, he aims to increase teacher wages, combat gun violence and invest in renewable energy. Learn more about McAuliffe at his website: https://terrymcauliffe.com/. 
Glenn Youngkin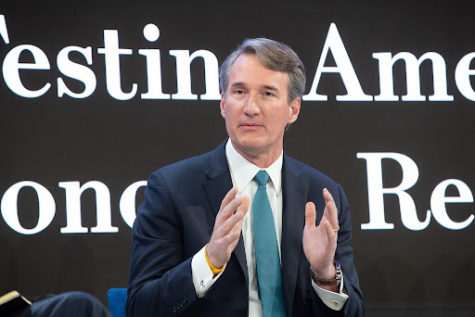 Rivaling McAuliffe for the governor's seat is Youngkin. Although his political experience is limited, Youngkin highlights his expertise in business and economics to show that he is a strong candidate, especially for strengthening Virginia's economy. 
Before running for governor, Youngkin was the former co-CEO of the Carlyle Group, a global investment firm. When COVD-19 hit, Youngkin and his wife also founded the Virginia Ready Initiative, a public charity dedicated to retraining unemployed Virginians for a career in highly-lucrative industries. As governor, Youngkin intends to "create 400,000 jobs and make sure every student graduates career or college ready," according to his website. 
"Certainly, Youngkin's business experience will help bring business to Virginia," Ng said. "He's a very successful businessman, nobody can deny that. [But] if you're all the way at the top, I don't think he's got a sense of those who are underprivileged, and there are a lot of underserved communities."
Members of the Young Republican club declined an interview. 
Some of Youngkin's other goals include helping small businesses thrive, defending law enforcement and improving Virginia's mental health system. Learn more about Youngkin here: https://www.youngkinforgovernor.com/meet-glenn. 
Other Candidates
Along with McAuliffe and Youngkin, Princess Blanding of the Liberation Party will also appear on the general election ballot this year. 
Blanding is a veteran educator and worked as a science teacher and principal before starting her campaign for governor. She backs up her qualifications with her history as a grassroots activist and her personal connection to various marginalized communities. Additionally, her experience in politics involves working with members of the Virginia Senate and House of Delegates. 
Blanding is also the founder of Justice and Reformation, a mental health advocacy and police reform organization that was created after her brother was fatally shot by an officer in 2018. In terms of her policy stances, some of Blanding's priorities include protecting the power of the working class, investing in sustainable, clean energy and creating opportunities to uplift Black and marginalized communities. Learn more about Blanding's vision at: https://www.princessblanding.com/ 
Independent Paul Davis is running as a write-in candidate after being disqualified for candidacy by the Republican Party, according to Ballotpedia. Davis, who refers to himself as the "greatest preserver of the Constitution," plans to use his power as governor to restore Virginia under the U.S Constitution. Some of Davis' objectives include: making vaccinations optional, legalizing recreational marijuana, supporting small businesses and banning critical race theory from schools. His primary concern is to "bring freedom back to Virginia" and "stop corrupt criminal politicians," as reported by his response in Ballotpedia's Candidate Connection survey. 
Davis' website can be found by following this link: https://pauldavisforgovernor.us/. 
"I [am] leaning more towards Princess Blanding," Rapaka said. "The election has been focused mainly on McAuliffe and Youngkin, but Blanding's views on racial justice and the criminal justice system most resonate with me."
Getting Out the Vote
Due to the large number of voters that still remain undecided, it is difficult to determine which candidate will take the governor's seat. The election results rely on which party can get the highest number of voters to the polls. Results from a study conducted by Tufts University show that voter turnout in Virginia from ages 18 to 29 has increased by 8% in the last five years.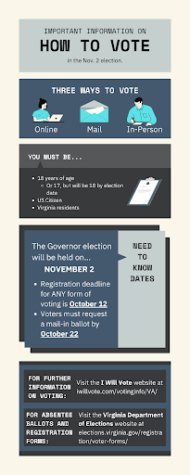 "In a typical year, we might get a third of registered voters to vote for governor," AP government teacher Joseph Clement said. "Which is really sad, because it's all of the things like traffic, schools, sales taxes, gun control 
and capital punishment that are determined by races like the governor's election. If you only get a third of the people to come out and vote, people aren't really having their voice heard." 
Although the pandemic left many voters apprehensive about voting due to large crowds, mail-in and absentee ballots make it accessible for everyone, encouraging more people to submit a vote. Escalating polarization between parties has also led to higher political engagement as, according to Pew research center, every state experienced an increase in voter turnout in the 2020 presidential election. If this trend continues, the November gubernatorial election may see more citizens voting.
Those eligible to vote in the upcoming election must be a registered Virginia voter and at least 18 years of age. The deadline for registering is Oct. 12. While General Election Day is on Nov. 2, voters may cast in their ballots early from Sept. 30 to Oct. 30. All voters must bring an acceptable form of ID to the polls, such as a driver's license or U.S. passport. More information regarding voting procedures can be found at https://www.virginia.gov/.
Student Politics & Activism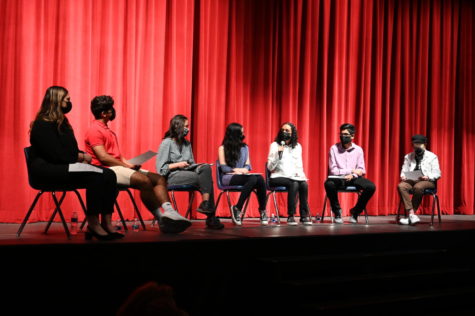 Although voting may be the most direct way to participate in government, this is not a method accessible for those under 18. 
"We need to understand exactly what we're doing because we are the future generation," Ng said. "With the myriad of problems we have, we need to be able to harness [our power] to be able to solve them and it starts right now, no matter what side you're on, because both sides have to come together."
There are many ways to get involved in politics besides voting. Students can read news from a combination of left-wing, right-wing and bipartisan publications to get a better understanding of the entire issue and its various stances. 
"The main thing would be educating yourself," Clement said. "While you're online, read an article here and there about the elections. I encourage people to read from a variety of sources. If you typically read Fox News [material], then read some CNN [material]."
Students can also engage with politics by joining government-oriented clubs at school. The Young Democrats and Young Republicans clubs meet to discuss current events and issues that are important to them. They provide a forum for students to express their political opinion and be exposed to many different viewpoints.
"[In Young Democrats], we do a lot of debating, but we also educate [and] we accept people with different points of view into our club," Ng said. "I think that's the important part, getting involved and learning more—that is the way to becoming a responsible citizen." 
Young Republicans meet on Mondays in Room 572 after school. Young Democrats meet every first and third Tuesday of the month, and meeting locations are subject to change. Updates can be found on their Instagram @chantillydems and @chsyrepublicans. New members are welcomed at any time. 
Amnesty International is another organization that works to protect human rights by influencing legislation. Amnesty meets every other Monday in Room 253. Students who are interested should join the club's Schoology group before attending a meeting. 
"We get together to help combat pressing issues in the world. Last year, we did things such as helping people get off of death row and fighting to make period products free," senior Yasmeen Elgayli said. "There are definite plans to have bigger impacts on bettering our community beyond what we have done in past years." 
Students who are interested in being at the forefront of politics can reach out to local politicians for internship opportunities, as well as volunteer at the polls. Virginians who are at least 16 years old and have taken a civics class can apply to become an election page in Fairfax County's High School Page Program. Students who are 18 and registered to vote are also eligible to work as an election officer for compensation. 
They can also volunteer to support candidates they wish to see elected into office through a variety of methods, such as helping with fundraising, canvassing, making phone calls and more. 
Politics at the local level are often overlooked by the events and news circulating at the national level. By investing in local and state politics, including city boards, county boards and even school boards, students can create their own opportunities to make the changes they want to see in their communities.  
"Anything state and local has a much bigger impact on your day-to-day life than what the president does," Clement said. "The presidential election is obviously important, but in terms of your [daily] quality of life issues, governor elections or supervisor elections at the county level are every bit as important, if not more important."