'Fake pads, cardboard tampons': students find problems with school-issued period products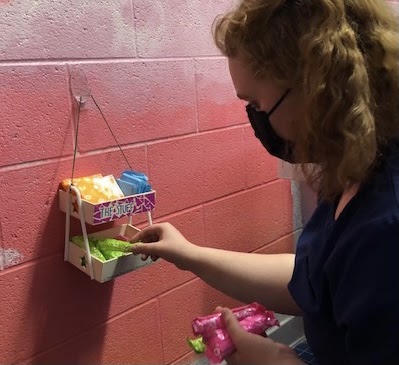 Approximately 50% of students at school need tampons, pads or other menstrual products to catch their monthly flow. However, far fewer of these students are confident they will have access to these items should their period strike at school. Issues including poor quality products and inconsistent restocking have caused a collective distrust and frustration from students who need tampons or pads but repeatedly find empty dispensers in bathrooms.
"[When] I need a tampon or pad, they're never there," freshman Amelia Maurer said. "People who have vaginas need [these things] and [the bathrooms] never have [them]." 
An Instagram poll taken on Nov. 23 showed that 75% of the 40 students polled would use school-provided tampons or pads if they were available. When asked about the lack of products in school restrooms, director of student services Corey Bowerman suggested they were stolen for a TikTok trend. 
"With devious licks going on, what continues to happen is people are stealing the products," Bowerman said. "[The custodians] will go in, fill the machine, [then] go back in and check a couple minutes later, [and the products will be] all gone."
Though Bowerman believes the products are all being stolen, students don't believe this to be true. Bowerman invites students to contact him if they notice the boxes are empty and he says the custodial staff will refill the boxes as soon as they can. In the event of an emergency, students can find products in the clinic if necessary. 
"I don't think [the devious licks trend] was ever happening with the tampon dispensers," Maurer said. "They're not something that's funny to steal. Most people know that people need those things."
Not only are tampons and pads rarely accessible, they are of questionable quality as well. In a Nov. 23 Instagram poll, 27 students rated the quality of these products at an average of four out of 10, and senior Becca Marsh described the products as feeling like fake pads and cardboard tampons. 
"The pads aren't long enough," Maurer said. "They don't seem very absorbent [and have] a weird texture."
According to Bowerman, the pads and tampons are purchased by Fairfax County Public Schools and their quality is completely out of CHS administration's control, meaning students can either go to the county or fix the problems on their own. 
Marsh and a friend were granted permission to decorate the theater department's dressing rooms and used this opportunity to provide period supplies to anyone who may need them.
"I wanted to make sure that everyone would have access to the supplies they needed," Marsh said. "There weren't any [supply boxes] at all in the male or female dressing room [in the theater department], so I just decided to make some of my own."
Marsh uses her own money to provide tampons and pads for the boxes in the theater department dressing rooms and does not plan to ask the school to pay for them. Most students prefer Marsh's boxes for the quality and comfort of her products, their reliable supply and the fact that she offers them to those who identify as male as well. 
As of Nov. 29, lead by Marsh, Health Occupation Student America (HOSA) expanded their period product boxes to the other restrooms in the school. HOSA's boxes can be found in nearly any women's restroom and the organization hopes to get permission to install even more in the men's restrooms.
"There are girls who need them, [and] there are guys who need them," Marsh said. "I just didn't want anyone to feel ashamed or embarrassed to need those supplies, so everybody has them."