Materials, keepsakes stored over years assist teaching
Upon walking into social studies teacher Michael Kirk's classroom, students may notice the stacks of notebooks lining the bookshelves. These notebooks—some of them over 10 years old—are designed by Kirk to show students how they should take notes. 
Like the class they are designed for, the model notebooks document the changes through time and how U.S. Virginia History has been developing as a course. There are many other teaching materials such as homework turned in by previous students stored over the years in the classroom as well.
"I have a lot of old materials in file cabinets," Kirk said. "Hardcopies of materials can be useful, [and] sometimes I use them, but mostly I just never get around to decluttering."
When it comes to revising curriculums, teachers can use material from previous years as a reference to determine what contents should be kept. They can also spark ideas for future lessons. Some teachers like to store works from previous students, which can serve as a model example for future assignments.
"If I have a particularly good model of something, I would want to keep one and show people in the future what we are looking [for]," social studies teacher Angie Rollet said.
Random items accumulated over the years, such as souvenirs from travels, can also be used as teaching aids.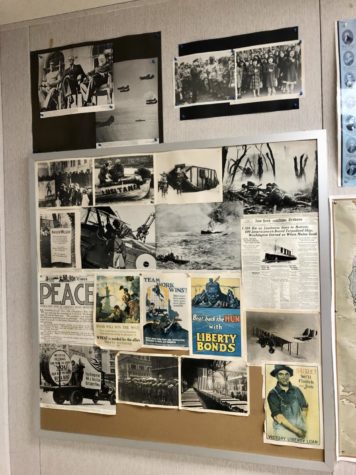 "I teach world history, so there are things that I use in my teaching," Rollet said. "I pull out my terracotta soldier when I'm teaching China."
However, most teachers tend to store digital forms of materials from previous years since more work is done on computers, such as putting slides of notes together and keeping scanned copies of student assignments.
"Keeping a bunch of photographs would be a little bit difficult at times, so I take pictures of those things," visual arts teacher Betty Simmons said. "I don't want to take people's work [because] it's near and dear to them."
While referencing has its value, renovating curriculums is also important to make sure that students are learning topics that are relevant today, according to Chalk.
"I might be teaching the same sort of processes, but I always do them in a different way," Simmons said. "I try to keep them current so that students today are creating things that nobody else has created."
As teachers spend more waking hours in their classrooms than at home, many of them would start collecting items that show their experience and personality after working in the same room after a while to make the working environment more comfortable.
"If you feel at home when you walk in your room, that feeling will probably be conveyed to your students," Kirk said.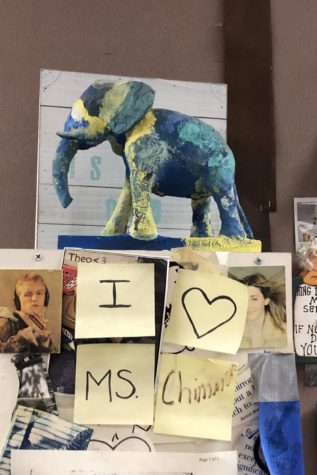 Many of the items teachers collect over the years are more personal than teaching-related, such as gifts from students. According to the Center for Teaching Innovation of Cornell University, teachers can build a friendlier classroom environment and provide their students with a sense of belonging by sharing something about themselves, such as Rollet's keepsakes from her Peace Corp days before becoming a teacher.
"I think [displaying personal items] is a way for students to see teachers as human beings and have some image of who they are outside the classroom, which helps inside the classroom as well." Rollet said. "It's not only a conversation starter, but [also] a relationship starter."
Items accumulated over the years also document a person's teaching journey, reminding teachers of their past experiences and relationships with students.
"One of my students brought back a little mouse that says 'coolest teacher ever' [several] years after she graduated," Simmons said. "Feeling like [my students] have those connections [with me] really helps. Having little personal things around that were all student-driven reminds me of just how awesome students really are and how special every single one of them is, and that's important."