Desi representation in media influences societal views on culture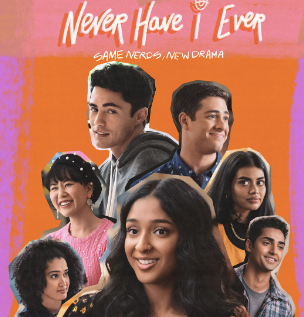 With approximately 70 million households binging shows such as "Never Have I Ever," and "Ms. Marvel," there has been a visible increase in South Asian culture leading to their success, according to Hollywood Insider.
The term "Desi" is used when referring to India, Pakistan or Bangladesh, including their food, traditions, clothing and culture. According to U.S News, with popular streaming services such as Netflix and Disney+ having released popular South Asian shows, Desi people in the country reported feeling more included.
"Desi people are neglected in modern media," sophomore Himesh Ahuja said. "It is important to have young Desi actors act as role models for younger South Asian Americans, so they don't believe they are [only meant to be] background characters."
According to Variety, nearly 40 million households in the U.S. have watched "Never Have I Ever," with a streaming of 55 million hours in total. "Never Have I Ever" follows Devi, who is a conflicted Indian teen reeling with the loss of her father while dealing with issues such as her mother's pressure, academic goals, dating life, friends and struggles with cultural identity. 
"What I really like about the show is the blend of kids in the high school with multiculturalism," English teacher Deborah Wydra said. "[The show] is relatable to many because of the struggle Devi has in getting a boyfriend, while getting her mom to accept it, along with achieving her educational pursuits in a pressurizing society." 
The show displays the difficulties faced by Devi's family as they try to adapt to America while staying in touch with their culture, which is a common theme among immigrants. 
"Watching [Devi's mother] fight hard to keep her culture even though the world may frown on her resounds to me as I watch her try to navigate her way through American society," Wydra said. "It makes me worried for all the parents out there who are trying to find their place and who may be going through something similar [in real life]."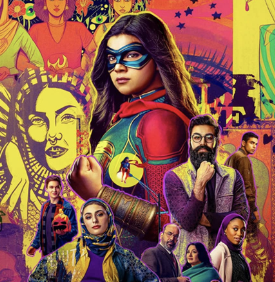 Another show with extensive Desi representation is Disney's "Ms. Marvel," which features a teenage Pakistani superhero named Kamala Khan.The show displays cultural celebration through showcasing Eid and playing Urdu and Hindi music in each episode.
"I really liked the music they used in 'Ms. Marvel', and even though I usually listen to Spanish and English music, I would listen to these songs outside of the show as well," senior AJ Enga said.
Additionally, the show is partially set in Pakistan and the plot includes aspects such as the partition of India and Pakistan, which is a historical reality in South Asia.
"I liked the importance of the partition in 'Ms. Marvel' as it teaches me about history and where I came from," Ahuja said.
According to The Revealer, 'Never Have I Ever,'displays racial stereotypes such as getting high grades, expecting to get into Ivy League schools only, passing judgment against divorced women, stigmatizing having mental health issues, dealing with toxic aunties and putting up with religious superstitions, among many others. 
"I want non-Desi watchers to see that the stereotypes that exist are not true in most ways," Ahuja said. "We shouldn't be seen that way because we grow up the same way that most people do [in this country]."
"
Watching [Devi's mother] fight hard to keep her culture even though the world may frown on her resounds to me as I watch her try to navigate her way through American society,"
— Deborah Wydra
Viewers will get to see the final season of 'Never Have I Ever,'  and the second season of 'Ms. Marvel,' in 2023. For viewers who want to watch more shows that have Desi representation, 'Bridgerton,' 'The Gray Man,'  and  'Indian Matchmaking' are popular hits according to Variety.
"Most of the time when my [South Asian] friends talk about religion and have religious holidays I don't know why, but now after watching 'Ms. Marvel' I have context and knowledge of the culture and their celebrations," Enga said.