Connections between teachers, students improve educational experience
When asked about influential adults in students' lives, many point to a former teacher or coach. Strong positive relationships with educators prompt some alumni, and many current students, to reconnect with their favorite former teachers.
"I still go visit [my geosystems teacher] every day," senior Jo Kammer said. "If I could, I would stay back another year to continue taking orchestra with Mr. Mynes and hang out with Mr. Cooper every day."
Students' opinions
The cliche of small gestures causing huge impacts proves true when building relationships between teachers and students. According to sophomore Rin Kelly, they felt less isolated and more engaged after a teacher recognized that they were feeling out-of-sorts.
"During Covid, I had an amazing geometry teacher first semester," Kelly said. "Because I was one of the few students who would turn my camera on, turn on my microphone, she would talk to me after class. We would hang back in the Zoom call and just talk. It was really nice considering it was middle school and it was online."
Many students appreciate getting to know their teachers in a more casual manner. Teachers and students often build relationships through conversing and discovering commonalities. 
"Freshman year, [some friends] and I had Ms. Yadav," junior Siri Chellapilla said. "She was really nice. She would make time for us specifically to just chat. I really appreciated that, especially during online school. I'm a social person and I really like making connections and just talking to people so it was really hard for me."
According to Education Week, teacher and student relationships are directly linked to student performance in class. Strong positive relationships between teacher and student are linked to decreased dropout rates and disruptive behaviors, and increased academic engagement, attendance and grades.
"I tried in [Ms. Yadav's] class because all the other classes I was just going to do the bare minimum to pass," Chellapilla said. "In that class I didn't get a good grade but I actively tried to study because I really liked her and I didn't want to disappoint her."
Teachers' thoughts
With an average student count of 130-150 per teacher, each educator has miles of ground to cover in the first few weeks of the school year, according to director of student services Amy Parmentier. In secondary school especially, this creates a challenge when teachers are ready to begin teaching content but do not yet know their students well. 
"What you have just asked is one of the most daunting challenges of being a teacher because if all learning is relational, you want learning to begin on day one, but you don't yet have a relationship," English teacher Kimberly Scott said. "First, I ask students to make a name card that they will always have out on their desk because learning names is an important part of valuing relationships. When I see their name and I see their face and I say their name when I'm speaking with them, it begins to build a relationship." 
Some teachers, Scott for example, are very cognizant of their actions in the classroom. According to Education Week, teachers spend an average of five of the 25 hours they spend working outside of the school day each week on preparations for class and three hours on "non-teaching student relationships," 
"When I'm driving to work I'm thinking about what am I doing today, what is my work, what do I want to focus on; surrounding all of that are my core beliefs about being a teacher," Scott said. "No matter what, my number one core belief is that teaching is relational."
"
No matter what, my number one core belief is that teaching is relational.
— English teacher Kimberly Scott
Sports practices and extracurricular activities differ from the classroom in many ways, one in which it is different is the opportunity for students to relax into their genuine personalities. According to color guard flag technician DaSean Young, the school environment can be restrictive; the structure of most lessons requires students to muffle their true personalities in the interest of adapting to the needs of the classroom.
"Something that's foundational to who I am is creating an inclusive environment," Young said. "So I try to do the name and pronouns game as much as possible. I also try really hard to play around or to get to know them. Something that I think is really important to me is that I get to be authentic and my students get to be authentic."
Retaining relationships
In the second, third and fourth quarters of the school year, teacher/student relationships begin to bloom. Teachers know their students' names, their pronouns and are free to get to know them In a more complete way.
"If you're part of a conversation and you've got something, chime in with that and show the kids that you have a life as well outside of school, checking in, like 'how was your weekend, what are you doing this weekend, got any plans, are you traveling?'" Spanish teacher Todd Whitesell said. 
As a post-graduate student pursuing a PhD in psychology, Young is mindful of his students in a psychologically informed way, applying what he has learned at George Mason University to every practice he leads.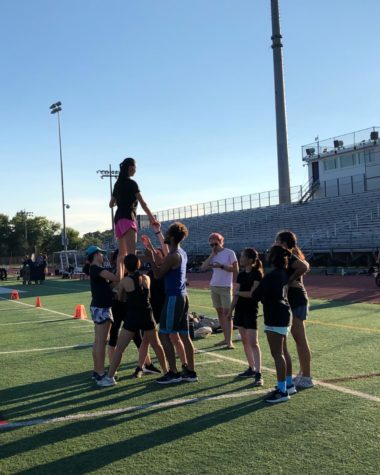 "With my background in psychology I'm really attuned to how all of [my students] feel all of the time; so if anyone's not looking happy or not looking super great, I like to check in," Young said. "I also like being really goofy. I think that really helps with getting students to open up to me. I do a lot of demonstrations; if you all are doing conditioning I'm going to do conditioning even though I hate conditioning."
Now that geosystems teacher Joshua Cooper no longer teaches Kammer, they regularly visit him. According to Kammer, one of their least favorite classes was made more bearable by visiting Cooper before and looking forward to orchestra after. 
"I didn't have any classes near Mr. Cooper on A-days so I only ever see him on B-days but he told me the first B-day that I saw him 'I was waiting for you. All these kids were coming through and I'm like "Where's Jo? Where's Jo?"' Kammer said. "[That] made me feel really fuzzy and made me miss his class more."
Gaging progress and reacting accordingly 
In order to continue fostering relationships with every person in their class, many teachers know how to understand their students and be able to react accordingly.
"A student who is comfortable is either relaxed in their seat or on the edge of their seat, kind of eager about whatever it is they're doing that day," Scott said. "I also know from what they say, they'll laugh, they'll joke around with me. They might hang out after class or come a minute early to tell me something."
Relationships between teachers and students are often personal ones. Students may need to be vulnerable in asking for help or expressing confusion with class content. According to TeachThought, open communication is one of the core elements of a positive relationship between teachers and students. 
"I think one of the biggest indicators that you are comfortable with your teacher in class is when you come to a teacher and you say 'I have this issue or I have this problem or I need this help,'" Whitesell said.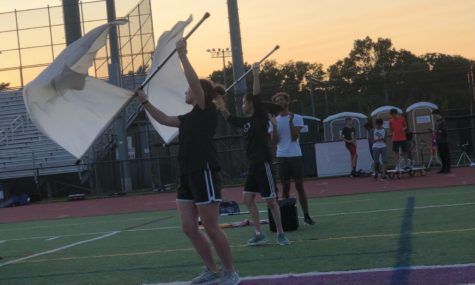 Teachers and coaches like Young welcome communication about what can be improved upon. Young recognizes that his teaching style may not work for everyone and is open to honest, constructive critiques.
"Something that I tend to ask myself when a student isn't very receptive to me is 'is the way in which I operate anti that student's personality?'" Young said. "Some people are not super goofy or the way in which I am goofy is overwhelming for them. I give you so much feedback over the course of the season, if you give me a little bit of feedback, that's okay. That is usually when I start trying to edit the ways in which I handle students individually."