Field hockey faces off in mental game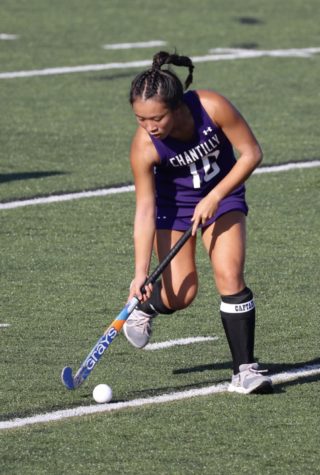 While viewers of the sport appreciate action-packed physical feats, girls field hockey focuses on mental strength to step up their game. 
With their first game Aug. 23, JV and varsity charged into a new season of field hockey, a sport similar in format to ice hockey but distinguished by its use of a grass playing field and plastic ball. While the players strengthen their skills to compete against local teams, they face another opponent in their own minds.
"A low [point] has been going into games and psyching ourselves out, thinking too much about it instead of being confident in ourselves," varsity senior Jada McGlothin said. "Sometimes I come out of games and I'm like, 'wow, I really could have performed better than that': just the mental game."
According to the Chantilly Field Hockey Instagram, tryouts for the JV and varsity teams were held over the summer from Aug. 1 through 3, with two sessions a day to assess prospective players' technique and stamina through scrimmages, stick work and conditioning.
With the season underway, JV and varsity teams meet almost every day after school to practice. The teams begin their practices concurrently, warming up with stretches, running and conditioning. Using theme days, the players exercise different skills at each practice before splitting up for focused drills based on each team's specific needs. 
"Last season, practices weren't always very productive, but I feel like every single time we go into practice this season, even if it's not the best—it's still better," McGlothin said. "Even when practice is hard, I'm tired and I want to go home, these people also want to go home and they're tired."
According to Max Preps, as of Sept. 28, the girls have garnered a 2-9 record, with their next game coming up on Oct. 11 at Westfield. For the varsity team, the season began with three consecutive losses, the greatest being their second game, a 0-2 loss against Centreville. 
"We've lost our first two games, and it definitely has taken a toll on the way we play," varsity captain senior Madeleine Ngo said. "We're just hoping to get our dynamic back." 
The teams are strategizing for a recovery from defeats. More than visible plays, captains emphasize connection, interaction and encouragement as the keys to a successful season and strong team mentally and physically.
"I think we can definitely communicate more during the games," JV captain junior Ria Jakhete said. "[That comes from] making sure you're talking to each other, knowing where everybody is on the field and moving as a unit rather than individuals."
With this team unity in mind, players are working on awareness of their distribution relative to others on the field and moving the ball with more collaborative passing. Increasing familiarity with teammates has the girls feeling supported and optimistic for improvement.
"We all want to go to districts and win, and then go to regionals and states," McGlothin said. "We've got big dreams."
The field hockey teams have numerous games before their final match on Oct. 12 and are working to build morale to make the rest of the season a score.
"We had team talks to discuss what's been going on with our team; mentally, we're kind of weak," Ngo said. "We need to strengthen our mental game, because it's not just a physical game, but it's also a mental game."