Losing streak disrupts athletes' game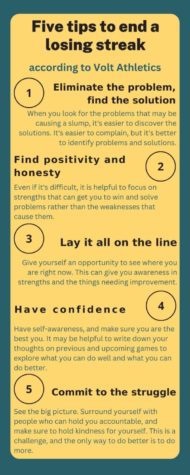 As athletes train for weeks in preparation for a game, the team excitedly hypes each other up. On the day of the game, they put their best foot forward to beat the opposing team—and lose. So, the coach makes them work harder—and they lose again. And again, until eventually they prepare themselves for a loss instead of a win.
A losing streak encompasses a number of games, usually in a row, that gets the team into a losing slump, one that can be difficult to get out of. 
"It's very unmotivating," field hockey senior Ava Poggi said. "After losing and losing and losing, it's really hard to get out of the funk because you go into a game with the mindset of, 'oh, I'm gonna lose again and it's just going to keep happening.'"
For hockey senior Eli Ehlers, focusing on his CHS teammates isn't his only worry. Because of the lower number of students in CHS that play hockey, the team plays combined with Westfield High School. So far this season, the Chantilly-Westfield team has yet to win a game, and part of the reason may be because of how the schools are combined, according to Ehlers.
"For us, being combined is a huge part of it," Ehlers said. "We're not used to playing with a lot of these kids. Half of the kids, I didn't even know their name until midway through the season last year because we just never see them in school."
According to Stack, during a losing streak, coaches tend to push harder for the team to perform better. However, putting too much pressure on a student athlete may be more damaging than helpful when the team is already unmotivated.
"Right before winter break, we had a game and we very much should have won by multiple goals, and we lost 4-3," Ehlers said. "Our coach just went off on us and said that kids weren't dedicated enough and we weren't doing what we needed to do. It was not a good environment on the bench because kids were yelling at one another." 
According to a study from the American Psychological Association, winning and losing streaks may not be the most important thing for an athlete to focus on. Instead, it is about the strategy that improves the team . Aside from the physicality, many consider any sport to be a mental game too, one that requires just as much mental training as physical strength. Frustration towards the problems that come from a losing streak can aid in motivation to find solutions and improve individuals and the team.
"After the loss, we're generally motivated to do better next time," track and cross country senior Angelina Xu said. "It's more so motivation than discouragement. We might not have placed well, but we all have improved a lot from our previous time, and that gives us hope that we're going to do better next time."