Dorm decor tips create home away from home
Plants, posters and power strips: countless images of dorm room designs circulate social media in a variety of viral aesthetics. While endless decor options can overwhelm incoming freshmen, simple yet standout design ideas can help students create unique spaces attuned to themselves and their needs.   
"Whatever you decide to put up will be a big part of people's impression of you from your room," William & Mary freshman and CHS 2022 grad Edie Obernberger said. 
The transition to college encourages students to explore their identities, question career paths, relationships and ideologies, according to Madelynn D. Shell. Students can reflect this self-discovery onto their dorm room with signature decor.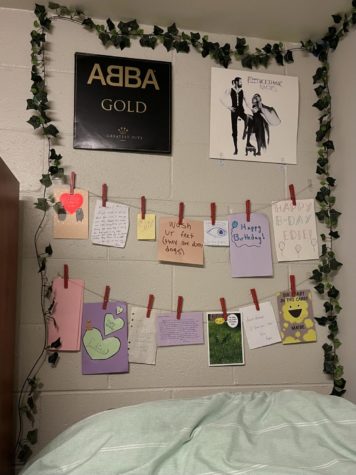 Cinder block walls serve as a blank canvas for showcasing items near and dear to one's heart, from personal artifacts to favorite posters. Photo wall collages are among the most popular dorm designs and offer distinct sentimental appeal. 
"My favorite part of my dorm room decoration are the pictures and mementos all over my wall," Simmons University freshman and CHS 2022 grad Lili Malatinsky said. "I showcase my personality in my room by having my favorite pictures and notes from my friends and family pinned up—plus, that helps with the homesickness sometimes."
To create a safe haven amidst academic stress and infinite unknowns, students incorporate comfort into their dorm designs. Beds are natural centers for rest and relaxation in a dorm room; however, their cozy materials can double as decoration. 
Bedspreads can serve as a focal point due to their large size in a small room, and can be used to establish a dorm's color palette, according to Cappex. Throw pillows provide added cushion and pizzazz to a bed, with quirky color, texture and shape options including flowers and hearts available from brands such as Dormify. Rugs are optimal for elevating a dorm from simple to stylish, according to HGTV, while creating a barrier between bare feet and cold linoleum. 
"My rug is definitely my favorite part of my dorm decoration," Virginia Commonwealth University freshman and CHS 2022 grad Harshini Bachu said. "It's really nice to be able to sit comfortably somewhere else other than my bed. I try my best to make sure I have extra blankets or pillows so when my friends come over they are able to be comfortable."
"
Anywhere can be home as long as you bring your personality with you.
— Edie Obernberger
A dorm room must also service students' needs while on campus, keeping necessary appliances within reach for easy access. Students list fans, mini-fridges, microwaves, electric kettles and power strips among the essentials for creating a dorm with all the conveniences of home, after ensuring appliances comply with your college's dorm policies. Brands including PBTeen, IKEA and Amazon boast trendy, colorful storage and appliance options that can combine form with function and add to decorative themes.
"You bringing all the stuff you need for life will show a lot," Obernberger said. "Just filling the room with your lifestyle will show your personality, and that's something that'll happen naturally over time too."
While moving up and out to college is an intimidating transition for many graduating seniors, dorm decor can aid in combating college anxiety. Interior design has a strong effect on mental health: observing art can produce the same psychological response as falling in love and the presence of plants improves mood and concentration, according to Ohio State University. 
"College can definitely be a little alien at first, so it's important to at least have your dorm as a place that feels familiar and like home," Obernberger said. "Anywhere can be home as long as you bring your personality with you."