Homemade holiday crafts set the mood of the season
Decorating for the holidays doesn't have to be expensive by making homemade crafts. Freshman Vedha Bana celebrates the holidays by making gifts for others.
[Crafting] is a way to express yourself," Bana said. "It can be spontaneous or it can be planned."
Pine Cone Christmas Trees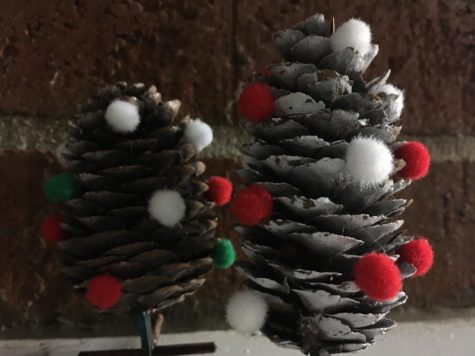 Supplies you will need are pine cones, pompoms, glue, popsicle sticks, skewers/toothpicks and paint. Making pine cone Christmas trees starts with taking any sized pine cones and cutting them in half, with one end flat and the other remaining pointed. Then, take mini pom-poms and glue them anywhere on the outside of the pinecone. Take a popsicle stick and cut it in half so that one end is curved and the other is flat. Next, take a skewer and cut four one-inch pieces from it. Glue two pieces of the skewer to the faces of the popsicle stick and two pieces to the edges. Lastly, paint the popsicle stick brown and glue the flat end of the popsicle stick to the flat end of the pine cone.
Paper Snowflakes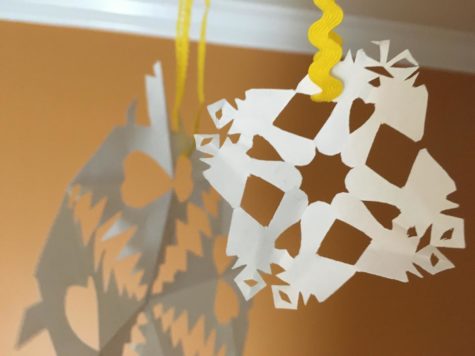 Supplies you need are paper and scissors. Snowflakes come in many different sizes, shapes and colors. To make this craft, fold the corners of a piece of printer paper to the opposite edge and cut off the excess. This should create a perfect square. Then take the square and fold the corners together twice to create a triangle. Any shapes can be cut into the sides of the triangle. When it is unfolded it will make a snowflake. Glitter can be a fun addition to this craft. 
"I find [snowflakes] cool because [in real life they] are so tiny,"  freshman Annanya Bitra said. "With paper ones, we can make them ourselves."
DIY Ornaments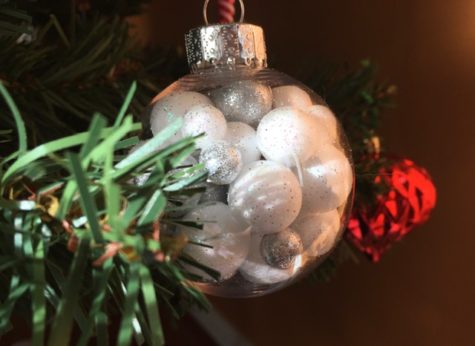 Supplies you need are clear ornaments, a paintbrush, glue and glitter. To make DIY ornaments, start by applying glue to the inside of a clear ornament by using a paintbrush. Add any color glitter inside and shake the ornament to coat the inside with glitter. Then, let it dry overnight. Anything can be used to decorate the ornaments, such as colored paper, fake flowers or a picture. You can also use vase fillers from Dollar Tree to decorate your ornaments.
"Making seasonal crafts [is fun] because it creates a theme in my household [and sets] the mood for each season," freshman Aditi Bhattachargee said.
Candle Holder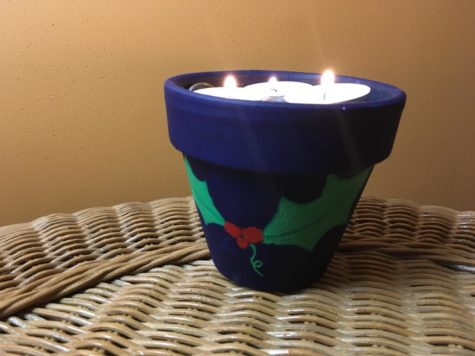 The supplies you need are 6 in. plant pot, paint, paintbrushes, glass beads and tealights. Holiday candle holders are an easy project to decorate the house. To make them, start by painting a small, ceramic plant pot in any color. Once the pot is completely covered in the desired color, paint any design, pattern or image on it. Then fill the pot with beads and place tealights on top. Fake flowers, pinecones or snowflakes can be glued around the pot as well. 
"The plant pot candle holder [is great] because you can make it multi-seasonal," Bhattacharjee said.