Cute cafes to visit during holiday season
The Chantilly area is home to many cafes for socialization or focusing on quality work time while enjoying a hot beverage and sweet treat to keep you warm.
De Clieu Coffee & Sandwich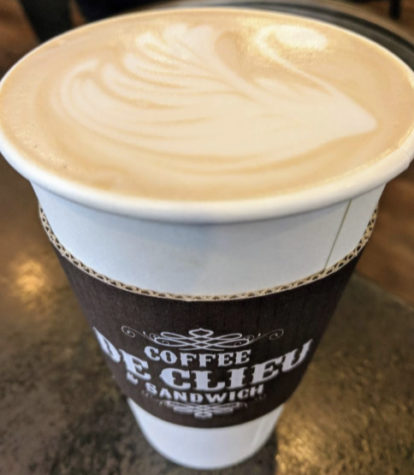 For fans of classic, well-made coffee who also enjoy adventure and the occasional outing, De Clieu is the place to visit. Located in Old Town Fairfax, De Clieu is a local coffee and sandwich shop that serves numerous sandwiches, specialty coffee made with high quality beans from around the world and custom house-made syrups. 
"My favorite food items include their gourmet cinnamon rolls, tomato basil soup, egg and cheese sandwiches and almost all of their bakery items," Lee said. "The cafe is well lit and gives a homey feel with the smell of coffee wafting throughout and everyone is always very welcoming with a smile," 
The food is more expensive based on the item ordered and the drinks are a standard price between $4-5. For seasonal specialty drinks the dolce cinnamon latte is a warm concoction immersed with caramel. A dreamy blend of orange, spices and chocolate are found in the Casablanca mocha. Additionally, the Maker's Mark latte is a warm comfort drink made with original Maker's Mark syrup and chocolate. 
"Cafe de Clieu is by far one of the best places I've gone to with my friends and family," Lee said. "The number of variety drinks that are offered is unreal since I love both coffee and tea and I love the vibe of where it is located."
Château de Chantilly (4.5/5)
When in need of a fancy or relaxing hangout spot with a variety of food options, Chateau de Chantilly is a local favorite located near Sully Plaza. The cafe has a vibrant ambience and is a fan favorite of many in the community due to the vibe, service, proximity to school and most importantly, a variety of freshly baked goods and seasonally flavorful drinks that are priced from $2-10. 
"We have a new menu item every season and we have winter seasonal pastries, desserts, drinks and Christmas cakes coming out that everyone would enjoy," owner Jacob Choi said.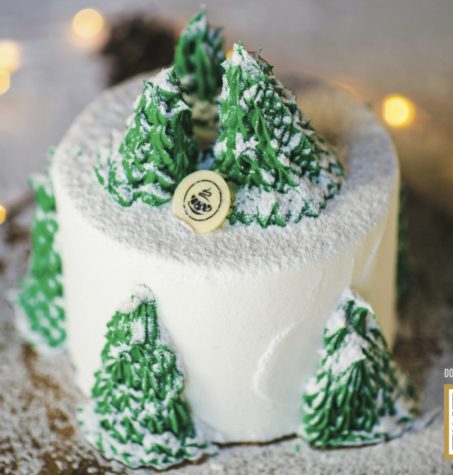 For non-caffeine drinkers, the real dark chocolate is a drink that has rich shaved chocolate heated in milk and is topped off with their famous whipped cream. Seasonal specialty drinks include the s'mores latte which is a hot drink made with mocha and chocolate drizzle, topped off with marshmallows. A specialty hot drink for study sessions or hangouts would be the creme brulee cappuccino that is made with espresso and caramelized milk.  
"The cafe has free wifi, many charging outlets and seating which makes it a good place for teenagers to spend time or study," Choi said. "I would recommend our Christmas cakes as they have very cute designs and are perfect for the holidays."
Shilla Bakery and Cafe (4/5)
For those with a sweet tooth and strong cake craving, Shilla bakery's goal is to serve the best tasting breads, pastries and cakes. This bakery has a cute ambiance with a view of showcased pastries in glass shelves and K-POP music playing in the background. They serve a variety of baked assortments, unique drinks and decorated cakes that hit the sweet spot and are priced between $3-10 depending on what is ordered. 
"Although a little pricey, I always order my cakes from Shilla and go there with my friends because it's such a cute spot that satisfies my sweet cravings," sophomore Emily Lee said.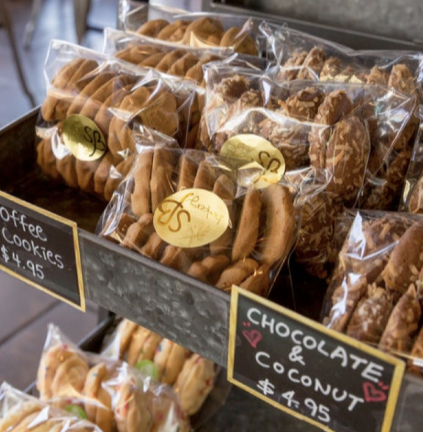 Cake slices can be enjoyed individually in flavors such as mocha, strawberry, mango, tiramisu and more. Additionally, roll cakes, breakfast sandwiches, wraps, salads, and lunch sandwiches can be enjoyed throughout the day. 
"I like grilled cheese and panini for a cold day and enjoy it with either a hot vanilla latte, rose latte or tiramisu latte," Lee said. "My favorite cake is the strawberry fresh cream and the dark chocolate mousse."
Located in Metrotech Drive, Shilla bakery is a highly rated cafe that has 127 patisserie options and is a well organized cafe to visit during the winter due to their exotic decorated cakes with fruits, chocolate, fondant and anything requested by a customer. Drinks that are sweet and filled with flavors and welcoming atmosphere that welcomes customers with a smile each time.
Tous les Jours (3/5)
If looking for another highly rated French bakery that has delectable baked goods surrounded by a bustling environment of people going in-and-out with a nature view, Tous les Jour, located in Chantilly is worth exploring. The cafe franchise offers more than 300 options of freshly baked items that include decorated pastries, gourmet cakes and diverse beverages that are priced from $2-15.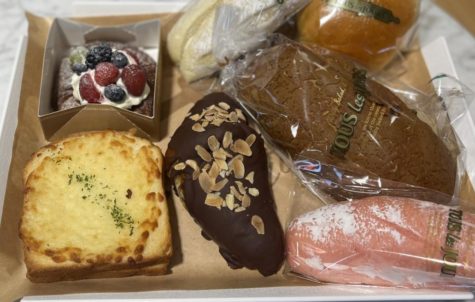 "The cafe's atmosphere was warm and cozy which is perfect for a winter day," senior Shriya Seenuthoju said. "I love the milk soft bread the most as it was light, fluffy and delicious overall, and I would definitely visit again."
For a unique hot drink to sip during winter time, some highly recommended beverages are the pumpkin pie macchiato, ube latte and lavender latte among others. 
"I had the lavender latte which was rich in flavor and it was different compared to usual Starbucks drinks I usually go for," senior Varshiini Gourishetty said. 
The cafe is for people who want to explore new places, have meetings, work on homework, or just have a very sweet tooth since each item has a considerable amount of sugar. Beware of the sweetness as this cafe is filled with it.